Chiefs reign victorious in the Super Bowl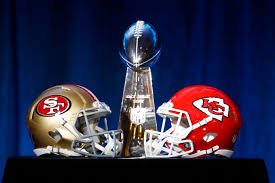 With their first super bowl appearance in 50 years, the Kansas City Chiefs will be competing against the San Francisco 49ers for the Lombardi trophy. The Chiefs' last championships were in 1962, 1966, 1969.
With a win, the 49ers would have their 6th super bowl win. Their last Super Bowl win was in 1995. Their five wins came in the 1980s and 1990s, with their last super bowl appearance in 2013.
The game will be played at Hard Rock Stadium in Miami Gardens, Florida. It will be played on Sunday, February 2nd. The halftime show will be performed by Jennifer Lopez and Shakira. This selection is reported to reflect the Latin culture of the city of Miami.
Head coach of the Chiefs, Andy Reid, has had a rough past, with a reputation for not being able to win big games. He will have a chance to redeem himself with this game. This will also bring more reason for him to be inducted into the Hall of Fame.
Mahomes was selected 10th overall in the first round of the NFL draft. He was also drafted in the 37th round in the MLB draft in 2014.
With one of the best defensive lines in the NFl, the 49ers are looking to shut down the powerful Chiefs offense. San Francisco's secondary will also pose a problem for Mahomes. Veteran Richard Sherman suffered an acl tear a few seasons ago, but now appears to be back in good shape.
Although the 49ers have a top-ranked defense, Kansas City is bringing a stacked offense, including Tyreek "Cheetah" Hill, Mecole Hardman, Demarcus Robinson, and Sammy Watkins. The Chiefs offense will have to hold up for Mahomes to be able to throw those deep balls. The game showed that the Chiefs had a better play, allowing them to be the champions.