Semi-State ends tournament run for Titan wrestlers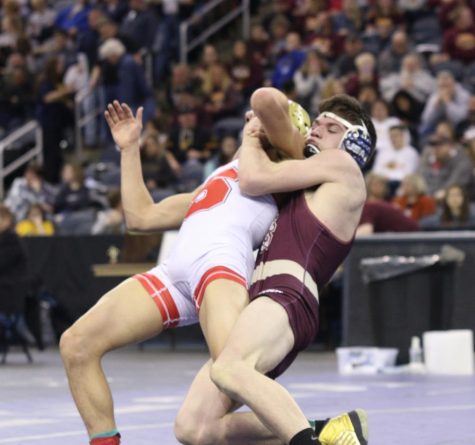 Two Titan wrestlers found themselves in a familiar setting, stepping onto the mats at the Evansville Semi-State. For junior Owen Bryant, this was his third appearance at the Ford Center and the second for junior Christian Polen. However, that experience was not enough to advance them on to the IHSAA Wrestling State Finals.
A total of four Titan grapplers fought for their ticket to state on February 15, advancing from the previous weekend's Regional at Evansville North High School: Polen at 132 pounds, Bryant at 152 pounds, senior Landon Hoover at 182lbs and senior Macray Robinson at 220 pounds.
Polen was the first Titan of the day to wrestle, winning his first match by major decision. Polen entered the ticket round, where he was pinned in under a minute by sophomore Hayden Watson of Center Grove High School.
Polen ended his junior wrestling season 40-7. Watson won the Semi-State for the 132 weight class, making Polen an alternate to wrestle at the state finals on February 21.
Bryant won his first round by decision to Tell City's Corey Braunecker by a score of 10-6. He then went on to wrestle Logan Boe from Danville Community High School. Bryant lost by a major decision of 12-1, bringing an end to his junior career. Bryant, with a season of 34-8, is also an alternate for State, as Boe was the champion for the 152 weight class.
Robinson won his first round of the day by pin against Charlestown's Lucas Gagnon. He then went on to wrestle his second round match, being quickly taken down, followed by an escape. The score being 2-1 with Robinson trailing by one point. Robinson then sustained a knee injury in the second period in his ticket round. Robinson, barely able to walk, limped back onto the mat. He lasted 15 more seconds in his match before being thrown to his back and getting pinned. Robinson ended his wrestling career at the Semi-State, as he does not plan on wrestling in college.
"After my match, it was very disappointing knowing after 13 years of wrestling and never having a major injury, I would tear my pcl in my knee," Robinson said. "This was my best year, with only six defeats and 36 victories, 31 of them being pins. I thought my wrestling season at Gibson Southern was pretty successful. I finished with 106 career wins."
Hoover was the lone Titan who did not advance to the ticket round. He lost the first round, suffering a pin in the first period by junior Reece Novak of Edgewood High School. Hoover, 33-9, has no plans to wrestle beyond high school.
"It felt really good with the guys I took to semi-state," head coach D.G. Asay said. "I'd always love more there, but what we took were some great wrestlers. I do wish we had one more week, but that's the way it went for us and the only thing we can do is start working on next year's team and get them in position for the postseason."
Gibson Southern tied for sixth place out of 18 teams at the Regional and tied for 28th out of 63 teams at the Evansville Semi-State.
"I would say that this team has a lot of character and fight in them," Asay said. "I really enjoyed the season and look forward to another successful season next year."