Elpers promotes good ISTEP+ habit with a tropical treat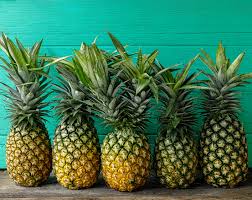 In the weeks leading up to ISTEP+, English teacher Elizabeth Elpers gave her students a sweet reminder to use paragraphs on the test. What was her idea you may ask? She used pineapples.
"It's something fun, but it does serve a purpose," Elpers said. "The pineapple is symbolic for paragraphs. A lot of times when we review for ISTEP+, we try to emphasize that you have to use paragraphs when writing the extended responses. It's just a fun incentive to get the students to remember."
While the fruit giveaway may seem silly, it had a lasting effort on students. 
"I remembered to use paragraphs," sophomore Lane Chambers said. "I probably should've used more."
The only thing a student needed to win a pineapple was luck. 
"In each of my sophomore classes, we drew a name out of a hat on Friday, and the winner got an actual pineapple," Elpers said. "We normally do ISTEP+ review for the two weeks before ISTEP+, and both Fridays we did a pineapple drawing."
Over the course of two weeks, Elpers gave out eight pineapples to students in her four sophomore classes. 
"I won a pineapple," sophomore Logan Thomas said. "I ate it, too. It was good."
However, this wasn't the first year of the pineapple giveaway.
"The pineapples are a tradition passed down from Mrs. Mishler," Elpers said. "I know we've been doing it for at least the past few years."
With standardized testing as a regular part of each school year, it doesn't look like the pineapple tradition will be going anywhere any time soon.