Brasher's class takes a trip to the past
Kyle Brasher's sixth period U.S History class took a field trip to the LST and the Evansville Wartime Museum on Friday. The students, before the field trip, were learning about World War II and its effect on America; the field trip served to show the effects of the war closer to home.
"I think we all really learned a lot, and I had no idea how much Evansville, Indiana contributed to the war effort," Alexis Garris said. "This was a really cool and informative trip. The food was great too."
This was Brasher's very first U.S History field trip, and he wanted to make the most of it. 
"I think it was a success," Brasher said. "We received rave reviews from the people at all the stops, including lunch, and I look forward to doing this again."
Along with the two history related stops, the group went to Angelo's for lunch. There, the students could eat pizza, pasta and salad before it was time to hop back on the bus and prepare for their next destination. 
Before leaving, some students decided to take pictures with the large "Road Work Ahead" sign posted outside the restaurant.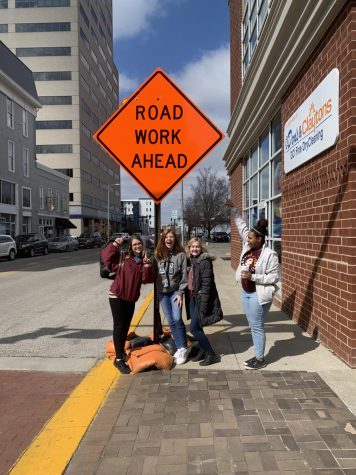 The class had plenty of opportunities for more history-related photos as well. Many of them took photos on a working WWII truck during their time at the Evansville Wartime Museum. Even Brasher took this time to get in the truck and snap a quick photo.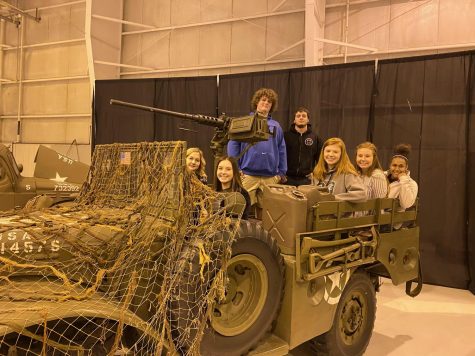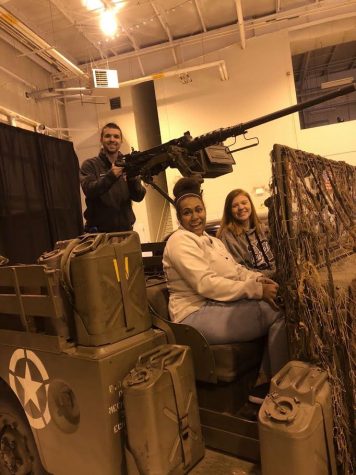 The students made five stops in total on their excursion. One for the LST, one for the Evansville Wartime Museum, one for Angelo's and two more for forgotten cell phones left at the LST and at the restaurant. 
"The most memorable part of the trip for me was when I left my phone on the boat and we had to turn the bus around to go get it," junior Jacob Spindler said. "I did it first, but the funny thing was when someone else did the same thing the next time we got on the bus at Angelo's."
The students ended the day by riding back to the high school on a bus, noisy with discussions of the day's events.