Indiana Department of Ed requests state test forgiveness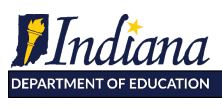 To: Corporation Test Coordinators, Superintendents
From: Dr. Charity Flores, Director of Students Assessments
Date: March 13, 2020
Subject: Assessment Update Regarding COVID-19
In light of COVID-19, the Indiana Department of Education (IDOE) requested forgiveness for required state assessments.
Until further notice, the Spring 2020 IREAD-3 will be postponed. ISTEP+ First Time Administration (FTA) will also be suspended effective March 16, 2020.
IDOE is awaiting forgiveness guidance from Governor Holcomb's office and the United States Department of Education on all other state assessments, including ILEARN and I AM.