Gibson Southern enforces masks in response to executive order
On the night of Wednesday, September 1, the South Gibson School Corporation sent out an email to all students saying masks will be required in school for all students and staff when a six-feet social distance is not possible. Stacey Humbaugh, the Gibson Southern School Corporation Superintendent, made the decision after Indiana Gov. Eric Holcomb released an executive order, which outlined different requirements for the state in response to the COVID-19 global pandemic.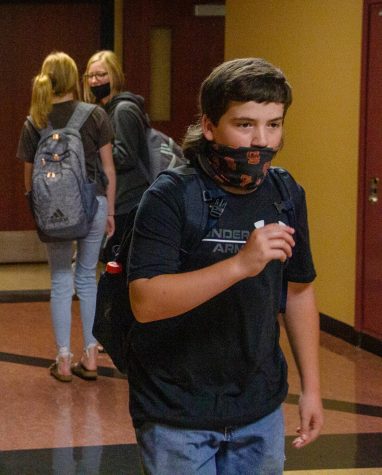 Gov. Holcomb's Executive Order
Even though Holcomb has strongly recommended schools encourage students to mask up, Gibson Southern has not had a mask rule because it has been trying to make this year a normal one, with very few restrictions and every student coming to school. 
The executive order does not explicitly force students to wear masks but allows students wearing a mask to avoid quarantine when deemed a close contact. If the close contact is identified, a student only has to quarantine if showing symptoms. 
"Please understand that this rule was put into place to give each of you (students) the best opportunity to stay safe and stay in school and not be contact traced," said Gibson Southern High School Principal John Adams in an announcement to the student body.
With these new rules and regulations, students have mixed views on the mask requirement. Some students agree and even think it could have been enacted earlier. 
"I think it was the right call if we wanted to keep playing sports, do clubs, have Fifth Quarter and other extracurricular activities," junior Eliott Church said. "But, I think when a few students started testing positive we figured we all would be in masks. I am kind of shocked they waited so long to be in masks."
While students like Church have accepted the mask rule, others are still struggling with some aspects of it.
"I kind of agree and at the same time I kind of do not," junior Wilm Schupp said. "On one hand, it is nice that by wearing masks we are able to be as close to each other as we want. But, at the same time, I do not see it as a good way to stop the spread of COVID-19." 
For those who are against wearing masks inside South Gibson's school buildings, Humbaugh has this gentle reminder.
"I understand their frustration, but our goal is to try not to have spread of the virus and keep as many students as possible in school," she said.
The Gibson Southern School Corporation is following the new guidelines indefinitely and will continue trying to keep students healthy and in classrooms for face-to-face instruction. 
"We want healthy students staying in the building and also having the opportunity to continue with extracurriculars," Adams said. "This rule does that."
Wear a Mask, Stay in School – Indiana Department of Health