Lady Titan golf team drives on to Regional
Team comes in second at the Jasper Sectional
The Gibson Southern Lady Titan golf team competed at Sectional 26 on Saturday, Sept. 18, at Jasper's Buffalo Trace Golf Course in Jasper. The Lady Titans advanced forward to their Regional, led by individual Sectional champion senior Hillary Humbaugh, who shot a 77 on the course. The Lady Titans had a combined team score of 359, which was good enough for a second place finish behind the Jasper Wildcats. 
"We had high expectations for ourselves but knew how skilled Jasper was and that it was going to take a lot to beat them," senior Jesse Irvin said. "They have beaten us twice this season, but not by very much either time. We had hoped to win the Sectional, but our main focus was to advance and move on as a team to [the] Regional and just do our best."
According to a Facebook post by the Lady Titan's golf coach, Al Lentz, the team score of 359 was good enough to win last year's Sectional.
Being so close to a Sectional champion team is a good sign for any sports team. Because of this, Irvin is optimistic for a great performance from the team and herself at the Regional.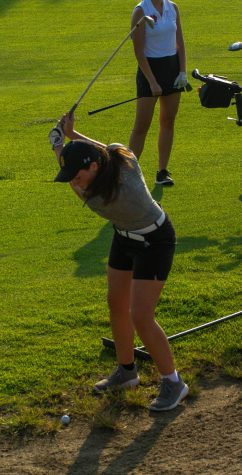 "Heading into [the] Regional, we are all really focusing on just playing smart," Irvin said. "Country Oaks is a pretty safe course, but like any match we have to play smart and safe." 
Junior Vanessa Schmitt shot a 93, junior Madilyn Sperling shot a 94, senior Kirsten Spindler shot a 95, and Irvin shot a 102 at the Sectional.
"I would like to continue to work on my short game as that comes into play a lot when keeping a low score going," Irvin said. 
The Washington Regional will have 18 teams competing, hoping for a chance to play at the State final on Oct. 1 and 2. Fortunately for the Lady Titans, they already played at the Regional course this year, so they hope their prior knowledge of the course will give them an advantage against the other teams.
This year's tournament team is exactly the same as last year's. The girls know how to communicate with one another and know each other's type of golf game. Along with this, the team has grown tighter.
"I have really enjoyed getting to … become close as a team and set some personal PRs," Irvin said.