Long joins Titan staff as new JAG teacher
Previously only a Titan football coach, Long finds his place in the classroom
Jeff Long is a new teacher at Gibson Southern High School who teaches the JAG classes. Long, a Nebraska native with no cooking skills, is in room B12, downstairs in the business hallway. Long has great pride in the fact all the students he has in his classes are passing. 
Southerner: What is JAG?
Long: "JAG stands for Jobs for America's Graduates, and it is a class that is a workplace preparedness program. We work on team building activities, resume writing, interview techniques and personal development."
Southerner: Did you work anywhere previous to Gibson southern?
Long: "No, but I am currently a pastor at a church, Zion UCC church, and a football coach. I coached for the last three years, and then I was asked to become the JAG teacher."
Southerner: What is the best and worst thing about being a teacher?
Long: "The best thing about being a teacher is all the relationships that you get an opportunity to be a part of. The worst thing about being a teacher is when the school day ends and it's over. I really enjoy having the opportunity to get to know people, learn a little about their lives, and through that relationship you get to watch their lives unfold."
Southerner: What is one of your hobbies?
Long: "I am a beekeeper. I have 15 hives. I got involved in keeping bees as an environmental thing. The bonus of that is the fresh honey. It's hard, and they are sometimes not easy to keep because of disease and things like that, But, I felt like it was important for environmental awareness."
Southerner: What's a typical Saturday night like for you?
Long: "Preparing for church, going over my notes, finalizing my PowerPoint and being prepared for Sunday morning." 
Southerner: What are some pets you've had or would like to own?
Long: "I am a big dog lover. But, if there was a pet that I would like to own that I haven't owned, it would be a pig. Mainly because I think it would be unique to have a pig living in the house. They are supposed to be really smart, and I just think it would be really funny every morning."
Southerner: What is your dream vacation?
Long: "My dream vacation would be taking my bike to the Rocky Mountains or some mountain range somewhere and having time to ride trails. I would like to do something like that in the midst of the beautiful landscape."
Southerner: How do you spend your summer breaks?
Long: "My summer breaks are usually spent on some sort of vacation, a lot of times going back to Nebraska to see family there. And, football starts in the summer, so with football practices, also."
Southerner: What are some traditions or superstitions you have for the first day of school?
Long: "No superstitions because I am not superstitious, but traditions would be having something welcoming for students as they arrive on the first day. It usually involves food like brownies or donuts. So, we have started a tradition in class that on Friday mornings here, I bring donuts or something to eat in the morning. All of my classes that I teach get some."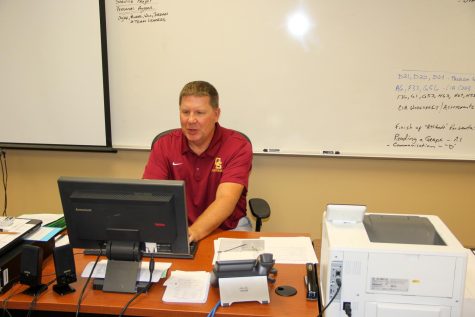 Southerner: What makes a 'good day' at school?
Long: "Feeling like I helped someone accomplish something that they didn't think they could."
Southerner: How do you show your school spirit?
Long: "It would be dressing with some sort of school spirit on game days and participating or attending as many sporting events as I can to be supportive of student athletes." 
Southerner: What is your favorite dish from the cafeteria?
Long: "I get the gluten free lunches, so I would say my favorite lunch would be a hamburger with mashed potatoes, corn and broccoli salad."
Southerner: Is there a quote or saying that you live your life by?
Long: "Embrace the challenge. Don't back down from the challenge but seek ways to learn and grow from something new that you might feel is too challenging initially."