Gibson Southern welcomes Mann as new Spanish teacher
A change in college majors brings Mann to Gibson County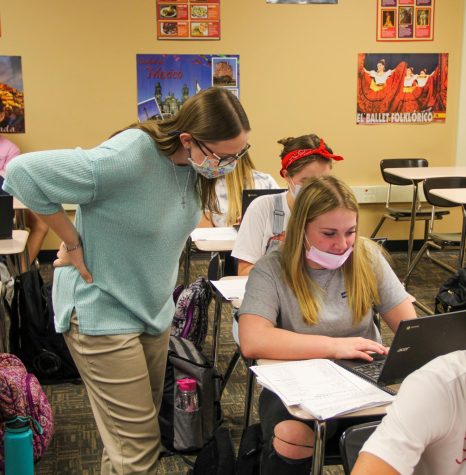 Kaitlyn Mann is a new Spanish teacher at Gibson Southern High School. She recently graduated from Indiana University in May with a degree in foreign language, and Gibson Southern is the first school in which Mann has taught. She was born and raised in Jasper, Indiana, so she is no stranger to the southern Indiana way of life. Mann found her love for the Spanish language and culture in college and decided to turn it into a career.
Southerner: What got you interested in teaching Spanish?
Mann: "Originally, I went to college to become a doctor, but while I was there, I realized that I really loved learning about Spanish and learning about the culture. It was easy for me to learn, and I thought I would be pretty good at helping other people learn the language."
Southerner: How often do you accidentally start speaking in Spanish at home?
Mann: "I listen to a lot of Spanish TV and radio, so I'd say pretty often. There have been times where a family member has called, and I answered in Spanish without noticing."
Southerner: How do you spend your summer breaks?
Mann: "My family owns a farm in Jasper, so I usually go back home and help with the farming and gardening. Mostly, I spend time with my nephew."
Southerner: What are some traditions/superstitions on the first day of school?
Mann: "I really like llamas, and I think they bring good luck, so I had to set some around my room."
Southerner: What inspires you?
Mann: "I'm really inspired by my family, both my mom and my dad are very hard workers. Seeing how much they valued taking care of my sister and me when we were younger and even now since I've moved away."
Southerner: What school sport/activity do you enjoy watching?
Mann: "My favorite sport to watch is probably basketball. Being in marching band, I never really understood the rules of football, but basketball was pretty easy because my grandpa and mom played basketball."
Southerner: If you won the lottery and gave up teaching, what would you do?
Mann: "I would either move to Spain forever, or I would become a nanny/hang out with my nephew. In college, I studied abroad in Madrid, Spain, and fell in love with their culture. The weirdest thing was probably 'siesta' where from about 1:00 – 3:00 p.m. Spain time, stores close and everyone goes home for a nap or rest time."
Southerner: What is your first memory of school?
Mann: "In preschool, I convinced my dad to bring a piglet to school for show and tell. I got to be the cool kid in school whose dad brought a real live animal."
Southerner: Is there a quote or saying you live by?
Mann: "My mom always tells me 'You got this!' before a big exam or project for college."
Southerner: What is your dream vacation?
Mann: "I would really like to go to the Grand Canyon to see sites and hike. My friends from high school showed me pictures from their trip, and I always thought it would be cool to see."
Mann teaches in room B236 during the school day. She can be reached by e-mail at [email protected]. Stop by and welcome our new teacher to Gibson Southern.