Gamroth joins Titan staff as Gibson Southern's newest English teacher
A military man turned educator, Gamroth begins his first year as a high school teacher
Ian Gamroth is the new English teacher for Gibson Southern High School, assuming the position formerly occupied by Kyle Brasher. He discovered his love for teaching while in the military. After retiring in 2014 from 15 years in the Air Force, Gamroth decided to earn his teaching degree at Indiana University. He taught fifth graders at Princeton Community Intermediate School for three years before coming to Gibson Southern this year. While previously a Tiger, Gamroth is no stranger to Titan life, as his son, Patton Adams, is a junior here.
Southerner: Why did you want to become a teacher?
Gamroth: "When I was in the military, I was a flight instructor at one point, and I really enjoyed it. I was able to go to instructor school and learn how to instruct on my job. I really enjoyed instructing on the airplane, flying and teaching about this job, so I thought teaching would be something I would like. While I was in my first two years of IU in a teaching program, I did a bunch of observations and visited a bunch of classrooms from kindergarten up through high school, and it just solidified my decision."
Southerner: How did the military help you become a better teacher?
Gamroth: "I think it teaches you a lot of things that good teachers need to have, like patience, organization and structure. To become a good teacher, I think you need to be surrounded by good teachers. I think that helped more than anything during my time at Princeton and my little bit of time here."
Southerner: Can you describe your perfect school day?
Gamroth: "Class participation in every class would be fantastic. [I would like] to not get the deer in headlights look when class discussion happens. I think a perfect school day would be a day that the kids were here and not having to worry about anything other than school. They don't have to worry about things going on at home or after school, they can just be in school and enjoy learning."
Southerner: Do you have any hidden talents?
Gamroth: "I am a fantastic cook. Tonight I'm going to smoke some hot wings, but I always have Thai green curry ready to go at any point. I have a ramen shelf in my fridge that's just ingredients for good ramen. I also have a cheese bucket. At any given point in time, there's seven or eight different cheeses in it. My favorite right now is the 24-month Parmigiano Reggiano. The stinkier the better."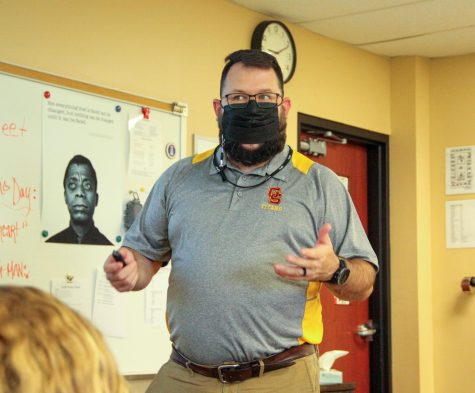 Southerner: What's your hype song?
Gamroth: "Probably something by Westside Connection or Biggie. I would say 'Hypnotized' by Biggie, or 'Notorious Thugs' by Biggie. It's like asking me to pick my favorite kid."
Southerner: What does your average Saturday night look like?
Gamroth: "Depends on the time of the year. Most generally I'm working on some sort of something on Saturday nights. Right now, I could be helping [my wife] take photos at a wedding or at a board meeting for one of the boards I'm on. If I had my choice, I'd be sitting on my deck with friends hanging out or traveling. We like to go out of town on the weekends if we can."
Southerner: What do your summer breaks look like?
Gamroth: "I enjoy my summers to the fullest. Summer Mr. Gamroth never puts on real pants and only wears athletic shorts. I love working outside in my garden and with my chickens. I cook a lot. I take my summers very seriously."
Southerner: What is your dream vacation?
Gamroth: "My dream vacations are usually based on places I haven't been to, or stuff that I can do with my family. I've been to six out of seven continents and to over 100 countries. We really want to go to Seattle. Right now, our next vacation is to take the Amtrak train from Chicago to Seattle. It's a four-day trip on a train with a sleeper car."
Gamroth is in room B213 in the English hallway. He teaches English 10 and AMerican Literature. You can reach Gamroth via e-mail at [email protected].