Freshman Scheller brings down the house with Friday joke of the week
Every Friday at 3:05 p.m., the school intercom beeps. The voice students hear over the P.A. at the end of the week not only makes every Titan's day a little better but also serves as the unofficial start of the weekend. Jacob Scheller, a freshman at Gibson Southern High School, loves to tell jokes and shares his passion with the students and staff with his Friday joke of the week.
Scheller and his puppet friend, Stanley, first got into telling jokes on Facebook, where his mom posts videos of him. Scheller said that Stanley is his sidekick and his best comedic pal.      
Jacob's joke telling started when coronavirus broke out and everyone had to stay home. People were devastated they had to keep away from their friends and family, and Scheller wanted to bring people joy by telling jokes.
"I like to tell my jokes to friends or peers at school," Scheller said.
The weekly joke has been well-received by Scheller's Titan peers.
"I think the jokes are great," sophomore Karrigan Cielinski said. "They really make my end of the day so much better."
Scheller comes up with his jokes from listening to them online, but some of them also come from episodes of television shows. 
Scheller said school principal Jon Adams came to him and asked if he would like to tell jokes at school. 
"I am friends with his parents on social media and saw he did his jokes on social media last year," Adams said. "I had an idea that I thought of at eighth grade night, and I thought that we need to do this. I thought it was really neat to see it on Facebook last year and knew it would bring some positive things to this school, especially on the weekend."
Adams allows Scheller to come up to the office to tell his jokes over the intercom so that the whole school can enjoy Scheller's brand of humor. 
"I had to figure out what the best time to do this would be, once a week, once a month, and he actually started doing this at Fort Branch community school last year to prepare," Adams said.
Throughout the years, Scheller has heard and read many different jokes, but there is one Stanley and he especially enjoy.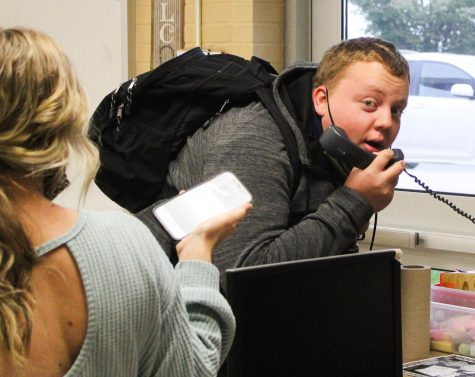 "My favorite joke is, 'Did you hear about the cat that swallowed a ball of yarn?'" Stanley said. "A few months later, she had a litter of mittens.'"
Despite Scheller being an amateur comedian, this is not what he wants to do for a career.
"I want to be a bike repair guy," Scheller said. "I was thinking of being a cook, but this song about a guy fixing bikes just popped into my head, and that is what I want to be."
Scheller brings joy into people's lives by telling jokes at school and online.
"I think it is a welcome relief at the end of a long week," English teacher Ian Gamroth said. "It lightens the mood at the end of a long day."
Students can listen to Scheller's jokes each Friday at the end of the day, here at Gibson Southern, or on Facebook.
For those who cannot wait until Friday, Scheller wanted to give his fans an extra joke.
"How do you count cows?" he asked. "With a cow-culator!"