Vaudeville 2021: "Vaudevillains" brought diabolical return to Gibson Southern Theatre
Titans return to the stage after a 24-month hiatus
On December 3, 4, and 5, Gibson Southern Theatre presented its first public show in 24 months – Vaudeville 2021: "Vaudevillains." "Vaudevillains" was the first show of the year, kicking off theatre season 48 with the return of Vaudeville. 
In the original concept, written by Director Adam Bledsoe and the senior officers in the International Thespian Society, villains from previous Gibson Southern musicals teamed up to try and stop Vaudeville once and for all. These villains include Miss Trunchbull from "Matilda the Musical," Lord Farquaad from "Shrek: The Musical," Snyder from "Annie" and Phantom from "Phantom of the Opera." 
In between scenes of the villains' antics, "Vaudevillains" showcased many students in several different acts, ranging from comedic skits, to powerful songs, to energetic group dances. 
"There was a really good balance of acts this year," Bledsoe said. "There were more skits this year than we've had in a few years, which is always something that's on the request list."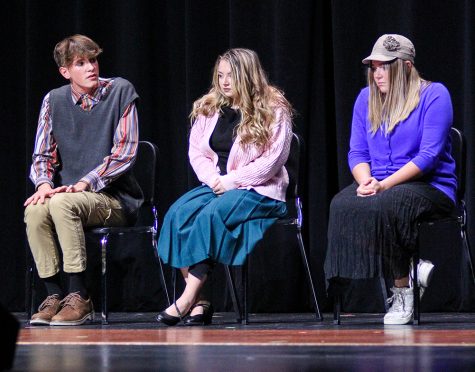 Many groups at Gibson Southern participated in Vaudeville. The theater arts classes, the musical theatre class and the cheerleaders all had acts in the show.  
"Vaudeville has lots of talented students showcasing their talents and being creative in a great way," senior Abby Scheller said. 
The variety of talents featured in Vaudeville is what brings the appeal. Everyone is doing something different and showing off what makes them special. 
"Being able to showcase all of everyone's individual and unique talents in one show makes Vaudeville very special," senior Ava Bartley said. "I love getting together for our full-cast rehearsals and seeing what everyone has put together. As a creative person, I love seeing other artistic work and supporting my peers in their theatre journey."
There's also an emotional aspect of the show. Because theatre at Gibson Southern had to be put on pause because of COVID-19, the return is great news for the performers.
"This Vaudeville was exciting because we obviously missed out last year," Scheller said. "And, it's my senior year, so it's my last go around."
The return of Vaudeville left the rest of the cast feeling eager, as well.
"The bounce back was phenomenal," Bartley said. "Having a break from the chaos seems like a good thing, but it's very easy to miss. It never stops being fun, and getting to share a stage with your best friends makes it even better."
If you missed Vaudeville, there's still a chance to experience what Gibson Southern Theatre has to offer. In fact, the department has already started preparing for March, when Gibson Southern will be performing "Disney's The Little Mermaid."