Students ready to take Gibson Southern 'Under the Sea' with 'Disney's The Little Mermaid'
This is the first public musical for Gibson Southern since 2019
It's time to go into the deep blue sea with Ariel, Sebastian, Flounder and many more creatures as the Gibson Southern Theater Department puts on its spring production, "Disney's The Little Mermaid." This is the theater department's second production of the school year, following the fall Vaudeville, "Vaudevillains."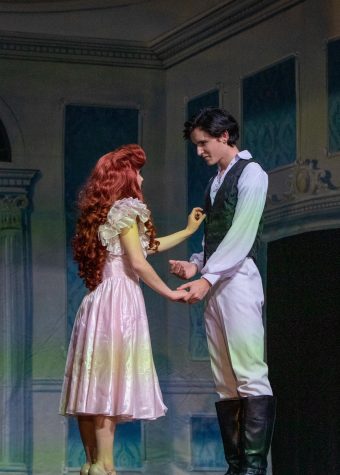 "This is the first time we have been able to perform a musical for the public since 2019," said Adam Bledsoe, musical director and theater teacher. "This is something that we have been looking forward to for a long time."
There are many parts that go into making a successful production each and every year. Hard work is required from the cast and crew, backstage and tech crews, as well as from Bledsoe and parent volunteers. After Vaudeville wrapped, all eyes went to "Disney's The Little Mermaid." 
"It has taken a lot of hard work, and this week we have rehearsals from 3:30 p.m. to 8:30 p.m., so we have put in so many hours on this show," sophomore actress Cassandra Reeves said.
There have been three setbacks when weather canceled school and after school activities. The cast and crew had to focus and put in extra work to stay on track to make sure everything was ready for the production to still run smoothly.
"We are on a strict four-day schedule a week, so we had to find time, whether that is pulling kids out of study halls or staying late after school due to the lack of time," Bledsoe said. 
One highlight of "Disney's The Little Mermaid" is the vibrant and elaborate costuming. Costumes took a lot of work to coordinate with the scenes and to be able to switch costumes quickly when needed. Costumers Demetra Tolley and Amy Scheller are in charge of all the costumes for the production.
"Planning for the costume started well more than a year ago," Tolley said. "It has taken hundreds, maybe thousands, of hours to coordinate and make the costumes for this show. In total, there are 113 costumes for this production. Even though there aren't that many cast members, many of them have multiple costumes."
"Disney's The Little Mermaid" is led by junior Jack Decker as Prince Eric and junior Brooklyn Casburn as Ariel. As the lead actor, Decker has enjoyed working with all the cast in the show.
"I have loved getting to know all the cast so well and spending these past couple weeks with them seeing them grow and build their characters," Decker said.
For Casburn, she is living her childhood dream.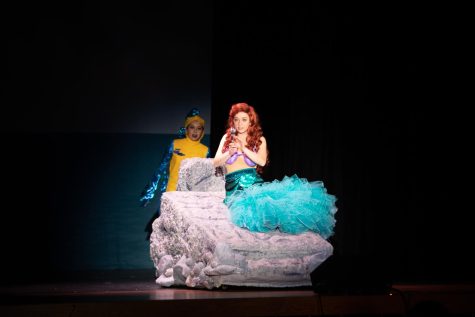 "Being Ariel is special because as a kid I always wanted to be a Disney Princess, and now I get to be that princess for all of the kids who come to see the show," Casburn said. 
Another crucial aspect of a successful production is the sets and their designs. This makes the production complete and sets the stage with a visual representation for the audience. They enhance and engage the audience to make them feel like they are truly in the production and can feel the energy coming off the stage. 
"The set work is amazing!" said Laura Russell, set designer and painter. "The construction crew created large scale pieces for both above the sea and under. Kent Scheller and Jason Toley are the brains behind this part. Many parents helped them build these pieces."
The art department, Art Club, 3D classes and a core group of art students worked on this for eight weeks. 
"A special thanks to Geneva Sagers, Whitney Alvey, Gilberto Palacios, Kibi Leung, Tricia Long, Lindsey Garbers, Kelsey Spindler, Amelia Robinson, Ella Helfrich, Aubrey Williamson, Kal Bedwell, Kaliegh Baehl, Gabby Baehl, Alissa Baehl, Raigan Brooks, Tyler McFadden, Megan Weaver and Neil Long," Russell said. "These students used plaster, paper pulp, packing tape, paper mache, foam rubber, spray foam, wire and many other things to form the 3D shapes. Then gallons gallons of paint and hundreds of sheets of tissue paper has been used for color and texture. If you look closely there are a thousand plaster finger tips used in the set. Almost every cast member had a part in making this underwater magical place."
"Disney's The Little Mermaid" opens on Friday, March 11, at 7 p.m., then continues into Saturday, March 12, at both 2 p.m. and 7 p.m. and it wraps with a production Sunday at 2 p.m.