Perry blessed to be new SGSC superintendent
The South Gibson School Corporation welcomes its first new superintendent in 17 years.
Bryan Perry is South Gibson School Corporation's new superintendent, filling the role Stacey Humbaugh left behind when she retired last year. He is a veteran, an experienced educator and an avid bike rider.
_____
Southerner: Where did you go to high school? College?
Perry: "I am a Tecumseh High School graduate. I attended the University of Southern Indiana for two of my degrees, and most of my advanced degrees have come from Indiana State University. 
Southerner: What degrees do you have?
Perry: "I have a Community College of Air Force degree in management. I have an undergrad in social studies teaching, a masters in education, another masters in education specialist and I have a Ph.D. in educational leadership." 
Southern: What was your first job? Where have you worked since then?
Perry: "My first job was actually working on a farm; putting up hay for local farmers. My first paid job was actually Holiday world; it was a lot of fun. I took a break in college and I was in the United States Air Force for four years. Then, when I graduated with my education degree, I worked in EVSC for 29 years. I worked at North High School, Central High School, North High School [again], Thompkins Middle School and then Central Office."
Southerner: What did you do in the Air Force?
Perry: "I was what they call a Maintenance Scheduling Specialist. I was stationed in Yokota Air Base in Japan. Our job was to ensure all the engines, GTCs and propellers on the C-130 aircraft were serviceable."
Southerner: What kind of jobs did you do for EVSC?
Perry: "I was a teacher, an assistant principal, principal, a director of school support, and then assistant superintendent for human resources." 
Southerner: What is your philosophy on fog and snow delays?
Perry: (laughs) "That is a good one. Well, I think when you're dealing with fog it has to be a situation where it's obviously unsafe for students. You want to make sure that safety always comes first. For example, this morning we were communicating; I've been up here driving around. A week ago I drove 1-68 and Mr. Armstrong drove another part of the community. It's really about safety and security for the students. I'm looking at a lot of weather apps. I've got some people up here that I am communicating with that live in different parts of the community, so a lot of contacts when we are looking at those situations." 
Southerner: What made you want to come to Gibson Southern?
Perry: "You know, I grew up in a rural community, I have lived in this area the vast majority of my life, and it was just an incredible opportunity. It was very clear that the community really cares about their schools, their beautiful facilities and their students are wonderful. It was just absolutely too good of an opportunity to pass up or at least attempt to land."
Southerner: Is there anything you want to change in the future (in terms of the school district)?
Perry: "Well there are a lot of things to look at, and I'm still in the phase of looking at what needs to be adjusted. My perspective is, we are really good, but we have to continuously try to get better, otherwise we will fall behind. So, my goal is to continue to improve and continue to grow in an evolving educational landscape. So, there's nothing on my radar that we must fix right now, but it's more about what we can do to get a lot better and make sure we serve our students well."
Southerner: How does Gibson Southern compare to past schools you have worked at?
Perry: "Obviously, with 29 years in the Evansville Vanderburgh School Corporation where there's 40 plus schools and 22 thousand students, … I get to be in the schools regularly, which I love. I get to talk to students and interact with students. There's a lot of pride in the community; I enjoy going and seeing the pride that is taken in the schools here. It is a little bit of a different pace for me. It is a quicker pace than I am used to, but I like that fact because it does allow me to interact with students, staff and administrators. It's been a dream, it really has."
Southerner: What is something new you have learned so far this year?
Perry: "That fog seems to be the most interesting thing in South Gibson. It doesn't matter where I go, faculty meetings, students, I know that if there is even a remote piece of fog out there,  they are wondering if it is going to be a two-hour delay. To me, it's a little funny. Trust me, I think safety is paramount, but that's the one question I get so regularly that it amuses me to a degree." 
Southerner: What would you like your legacy at Gibson Southern to be?
Perry: "You know, I think when I leave here I want people to think, 'He worked really hard to improve the outcomes of the South Gibson School Corporation.' I would want the person who replaces me to do even better than I do. It's really not about me, it's about making sure that students like yourself are successful later in life. And, I just want to leave it better than I found it."
Southerner: Do you have a favorite sport? If so, what is it?
Perry: "My favorite sport is football. I grew up playing football and a variety of other sports. I'm very active. I have been a runner for years. I can't run as much now because of a hip, but I've been doing triathlons and now I bike like a maniac. I have ridden with Mrs. Davis: gravel rides with a group of people. Football is my favorite team sport, but I am a very active individual."
Southerner: Have you gone to see any Titans' games?
Perry: "Yes, I have been to volleyball, cross country, soccer, football, tennis. I've been to a variety of athletic events." 
Southerner: What is your morning routine?
Perry: "The first thing I do in the morning is get a cup of coffee, then I throw on my shoes and my dog and I go for a morning walk. It takes about a half-hour to get her up and moving. Then, I spend a little quiet time reading the Bible. Then it's breakfast, clean up, put a suit on and go to work."
Southerner: Did you get a superlative in school? If not, what superlative would you have been given when you were in school?
Perry: "There was one, I was best dressed. I forgot about that. It's been a long time. But, I still wore a suit and tie, so nothing's changed there."
Southerner: So, you were wearing a suit and tie in high school?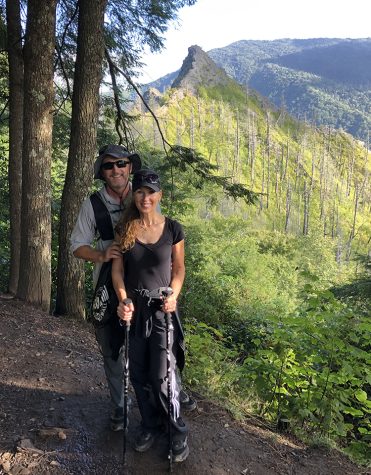 Perry: "No, I did not wear a suit and tie. But, I did wear a suit and tie [in administration], this is my 23rd year in administration. It was funny, the teachers often wondered if they would see me wear anything but a suit and tie. It got to be a joke. I had a PTA one time ask me if I would mind wearing jeans to the eighth grade dance this weekend, and I was like, 'Okay I can do that.'"
Southerner: What is your all-time favorite TV / Netflix / HULU series?
Perry: "I was always a "Seinfeld" fan. I like sitcoms, and I like funny movies, and I also like historical fiction shows. So, like on Netflix, it's not anything for me to watch "The Crown," especially the middle ages like: "Nightfall." Things like that. So, it's either comedy or historical fiction that I prefer the most."
Southerner: What book had the biggest impact on you?
Perry: "If you're looking at something that influenced me a great deal, Colin Powell's book on leadership. I think Colin Powell was an amazing leader, and I've enjoyed reading his books on leadership. Another one, many years ago, I read one called "The One Minute Manager." It was about not doing five and six things at a time but doing a task and then moving onto the next task so you do it well. Those are some of the books and folks who have impacted me more than anything else." 
Southerner: What is the advice you would go back and give to your younger self?
Perry: "I think that I would tell myself to relax a little bit more and enjoy the day-to-day of your friends, family and children because you only get that one shot with everyone." 
Southerner: Who is your personal hero?
Perry: "My grandfather I admire."
Southerner: Why is that?
Perry: "He was a man who grew up and didn't have a lot. He worked hard in life; he was always there for you when you needed him. My son, his middle name, is after him. I like to think my work ethic came from him. I get a little choked up on that one. I miss him." 
Southerner: What is your favorite way to spend a day off?
Perry: "My favorite way to spend a day off would be to start with a really long bike ride, either gravel or road ride, just looking at nature. Then I would spend time with my wife going somewhere in the community, go for a hike— just spending time with my wife and or children. I have two adult children, and I really enjoy spending time with them." 
Southerner: What current trends are baffling to you? Why?
Perry: "I think I'm getting old because a lot of things are baffling to me anymore. Sometimes I think this is a trend we can all relate to (points to phone). I didn't grow up with it. I saw a sign the other day, it said, 'No cell phone service. Pretend it's 1995 and look at each other and talk.' It was a beach. There is a lot of truth to that. I think walking around, and I'm guilty of this too, and not interacting with people and looking at your phone all the time, I question how good that is for us as a society. It's baffling because I'm as guilty of it as anyone else, and it's really not a great thing."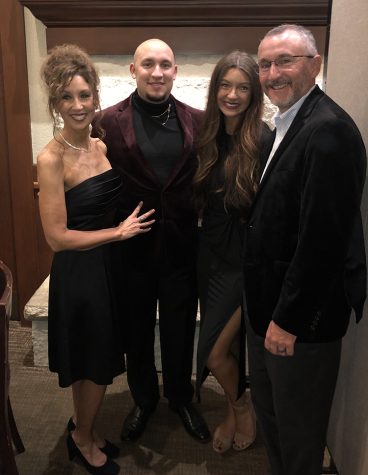 Southerner: In which teacher's class would you like to enroll, even for a day? Why?
Perry: "I don't want to offend any of the teachers, because I've really enjoyed getting to see all of them, I've really enjoyed going to the classrooms … You know, I think I would like to go into Mr. DeBord's and spend some time because of the things they can mix up with chemistry and the experiments you can do. I think I would enjoy those experiments. When you make sulfur and the whole hallway smells like eggs, that stuff makes me laugh. All the teachers in the hallway are like, 'What is that smell?' and it's the chemistry teacher doing some kind of experiment. The kids are doing hands-on things, and I think that's critical. I love going in and seeing the kids doing the work instead of the teachers doing the work."
Southerner: Do you want to add anything about yourself?
Perry: "I would just say that I feel very blessed and fortunate to be the superintendent of South Gibson, and I don't take this lightly. My first two and half months, I have truly enjoyed my time here. My wife sometimes wonders who I am because I'm a little more relaxed, and she can tell I'm enjoying myself at South Gibson. I feel really blessed to have this opportunity."