Mens' cross country wins PAC, claims course record
 The Titans won the 2022 PAC meet Saturday, Oct. 1, at Gibson Southern, where junior Alex Spindler won the meet for the boys' team. Also medaling for the boys was junior Cooper Maurer in 6th and junior Hayden Pennington in 7th. Along with winning the meet, Spindler set the course record with a time of 16:07.5; the previous record was 16:12 held by Spencer Wolf of Forest Park in 2021. Spindler's best time on Gibson Southern's course was 16:34 until Saturday morning.
"Going against very good runners helped me push myself, " Spindler said. "Knowing I had my teammates with me during the race helped me and gave me confidence in winning. During practice Hayden and Cooper are very good and hard to go against and help me in real racing situations."
According to head coach Jeremy Aydt, meets like these are good competition and best prepare them going into the Sectional.
"Our focus was to compete as well as we could in the PAC," he said. "We knew the races would be close, as there is some very good competition in the PAC. The level of competition in the conference helps us in preparing for the postseason."
The competition in the PAC forces the Titan runners to put forth their full efforts. Maurer finished a mere 0.2 seconds behind senior Pierce Lashly of Heritage Hills.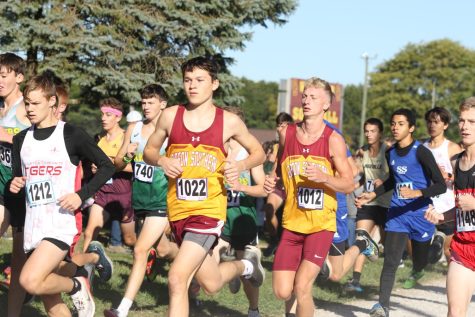 "I gave it everything I had, and I finished empty," Maurer said. "I thought there was good competition; it's good to face teams in our conference."
The team believes their success came from what they did in the offseason. Running in their free time and competing with each other this summer made them better and also led them to a successful year. 
"As a whole, we were doing a combination of both workouts and long runs to get us in shape  for the season," Pennington said. "Oftentimes we would push the pace on longer runs to get used to the fast pace at which we knew would benefit us come conference meet and postseason."
The Lady Titans' Cross Country team placed 7th in the conference meet. Leading the way for the Titans was All-Conference runner junior Courtney Heldt, placing 9th with a time of 19:55. 
"My goal was to definitely be in the top 10, and to try to be up there with a few of Princeton's top runners," Heldt said. "I think I did pretty good because I got my PR (personal record), and I really wanted to break my time."
Sophomore Elizabeth Steckler came in 28th and junior Aleks Parmer finished 35th.
Both the Titan boys' and girls' cross country teams travel to South Knox this Saturday to compete in Sectional 31.