Boys' tennis season ends with loss to North
Seniors Jake Decker and Eliott Church played their last high school matches
On Thursday, Sept. 28, the Gibson Southern varsity boys tennis team began and ended its Sectional at Princeton playing against Evansville North. 
Senior Jake Decker lost in two sets, 3-6 and 1-6. Junior Landon Kiesel lost in two sets, 1-6 and 2-6. Senior Eliott Church lost in two sets 4-6 and 3-6. First doubles, junior John Kiesel and sophomore Noah Kiesel, lost in three sets, 4-6, 1-6, and 4-6.Number two doubles of junior Grant Wade and sophomore Lucas Church won their first set 6-4 and lost their last two sets, 2-6 and 3-6.
"This was my first time coaching boys' tennis, and I had a lot of fun coaching them," head coach Kyle DeBord said. "There is definitely still more to learn for me to grow as a coach so I can help the boys and we can start putting numbers up on the wall."
DeBord is the new head coach for the mens' tennis team and is still in the learning process on how to teach the boys. He tried using some of the drills that worked on the girl's tennis team but said it just was not as effective for the boys.
While the freshmen, sophomores and juniors were sad about the loss,Decker and Eliott Church were in even more mourning because they just played their last tennis match of their high school career.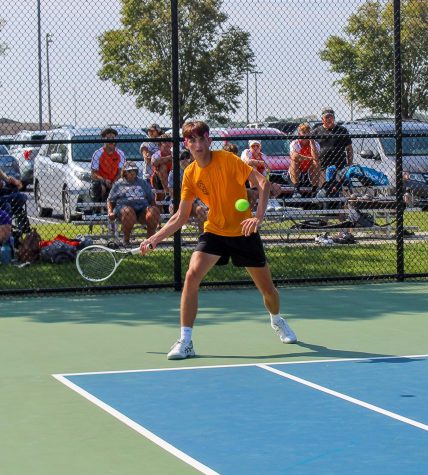 "I am very sad," Decker said. "Tennis has been a big part of my life since sixth grade. I am going to miss it a lot. I look forward to helping in the girls' season, but it is really sad that I do not have another season after this."
"Tennis was one of the only things I got to do all four years [of high school] with all of the craziness with covid," Eliott Church said. "It's nice to be done, but at the same time, I think I'll be missing it this time next year." 
One of the highlights about the tennis team was their chemistry. The guys had one fun way to hype each other up before a match.
"One of our favorite things was freshman Brayden Alldredge," Decker said. "He would do a backflip in the middle of the huddle before our matches."
As with most sports teams, music helps define a team and a season.
"Music [was my favorite thing]," Lucas Church said. "Usually we have a speaker and play some music as a team."
Despite losing to North, DeBord has learned a lot. As he learns, he advances on in finding a new way to help get numbers on the board outside of the tennis court. 
"Getting over the hump is what I'm trying to figure out in order to help next season," he said. "I will be going to a conference and asking much more experienced coaches so they could help me with my team." 
It is still a learning experience for DeBord but he is here to win, not to lose, and that is what he wants out of his team.  
"We played hard and we did our best," Debord said. "As Herm Edwards has said, 'You play to win the game.' That is what we want to do. We go out there and we try our best to the best of our abilities. I am very proud of these boys, and I am looking forward to seeing the freshmen, sophomores and juniors next season. I wish the seniors the best of luck in the future."