Boys' cross country exceeds expectations at Semi-State
Alex Spindler advanced to State and Courtney Heldt made her third Semi-State appearance
Titan runners competed at Brown County for the cross country Semi-State this past Saturday morning. Junior Alex Spindler advanced to the State meet, placing 1st for the team and 25th overall with a time of 16:31. 
Spindler's main goal was to make it to State, which hasn't happened for Gibson Southern since 2007 when Tabitha Titzer qualified for the final meet.
"My chances were decently low, but I knew deep down that I could do it as long as I worked hard," Spindler said.
Senior Ethan Spindler placed 75th overall and claimed the number two spot for the team with a time of 17:24. His finish was unusual, as he typically filled the sixth place spot throughout the season. At the Pride's Creek Regional, Ethan Spindler ran a 17:40, which made his Semi-State time 16 seconds faster. 
"Deep down it (his faster finish) was because it was my last meet ever," Ethan Spindler said. "I wanted to end on a good note, but also I took a 5-hour Energy. I was absolutely cracked out on caffeine, and I feel like that might have been a part of it."
Junior Cooper Maurer finished 82nd with a time of 17:30, junior Hayden Pennington finished 91st with a time of 17:34, junior Isaac Pohl finished 107th with a time of 17:49, junior Lucas Kissel finished 108th with a time of 17:50, and junior Eli Maikranz finished 165th with a time of 19:04. The team performed better than expected.
"I feel the boys team did very well," head coach Jeremy Aydt said. "This was our first team trip to the Semi-State in a few years, and the boys came away with an 11th place finish. Going into Semi-State, many coaches had us picked around 14th or 15th overall, so we bettered the expectations of many."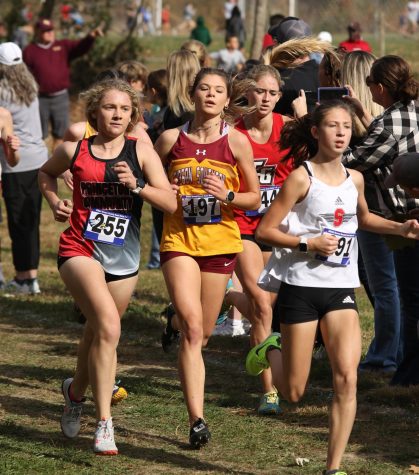 Lady Titan junior Courtney Heldt placed 91st in her third Semi-State appearance, finishing with a time of 20:59.
"I knew I most likely wasn't going to make it to State," Heldt said. "I just wanted to get a PR (personal record) to end the season."
Last year at Semi-State Heldt placed 77th with a time of 20:38.
The team ran at Brown County one time earlier in the season.
 "A big big part of running is the mental aspect," Aydt said. "Having already run on the Brown County course should have helped ease the mind of the athletes before an important meet like Semi-State."
As Alex Spindler prepares for his first State appearance, he is maintaining the training that put him there.
"I'm just staying consistent," he said. 'We'll see where Saturday takes me."
Alex Spindler will run at 2:30 p.m. EST at the LaVern Gibson Championship Cross Country Course in Terre Haute.
Past cross country state qualifiers include Elaine Spindler – 1987; Todd Pennington – 1992; Jeremy Aydt – 1993, 1994 and 1995; Matt Schmitt – 1996 and 1997; Jennifer McIntyre – 1996 and 1997; Seth Aydt – 1998, 1999 and 2000.