Spindler competes at State meet
At his first State appearance, Spindler finished 67th out of 205 runners from around Indiana
Junior Alex Spindler ran at Lavern Gibson Cross Country Course in Terre Haute for the State meet. Spindler placed 67th out of 205 runners with a time of 16:31. His goals before the meet were to finish the course under 17 minutes and place in the top 100.
"I did better than I thought I was going to," Spindler said. "I broke 17 [minutes] by a lot and did a lot better than just getting top 100." 
Head Coach Jeremy Aydt was a State qualifier in 1993, 1994 and 1995. 
"Things have changed since I was a State qualifier," Aydt said. "I tried to remember what it was like being there without your team. You go all season with the other guys on the team, warming up, stretching, etc, and they are not able to be there to do that when you qualify as an individual.  I tried to make sure he (Spindler) enjoyed the trip and hopefully it will be something he remembers and cherishes for a long while."
The State course was different from any others Spindler ran this year.
"It's a lot hillier towards the end of the race," he said. "And, then usually, at the beginning of the race it's really fast, go out, quick miles."
Spindler started the race stronger than usual, getting out in the front early. 
"I thought he did a great job from the start," Aydt said. "He got away from the starting line well and put himself in the front pack early on." 
This was Spindler's first time competing at the course. He practiced there on Friday to get a feel of what it was going to be like Saturday morning.
"We tried to keep the workouts similar to previous weeks," Aydt said. "He was joined by Hayden [Pennington] and Cooper [Maurer] for workouts. On Friday, we traveled to Terre Haute. Ethan [Spindler]  joined us as we previewed the State Championship course. As in previous weeks, I feel it gives the athletes a mental edge if they understand the level of difficulty of the course they will be running. This was Alex's first trip to the state finals and to the course in Terre Haute, so we wanted to make sure he had a chance to run on the course beforehand."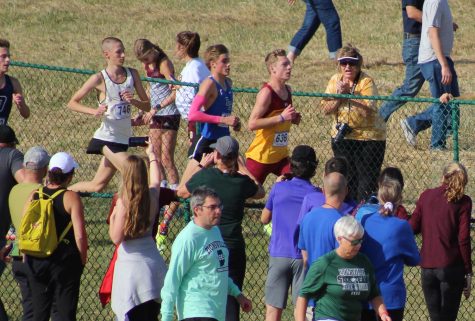 Running alone and without the camaraderie of his teammates was an exp[erieince unlike any other Spindler has had running cross country.
"It was different not being able to run with my teammates," Spindler said. "I was sharing a box with a different person from a different school. It was a lot different seeing them on the sidelines cheering me on instead of racing against them."
The team will return six of its seven varsity runners, all of them being seniors next fall. This will hopefully allow them to remedy this year's two-point Sectional loss.
"We are going to be very good as we are bringing back our top five, and we are going to have some young guys coming in to hopefully get our team to State for the first time in a while," junior Hayden Pennington said.