Float Friday provides students a sweet treat after lunch
The annual FCCLA fundraiser helps students attend the State Contest
I scream, you scream, we all scream for ice cream floats! Gibson Southern's Family, Career and Community Leaders of America set up a float bar last Friday, November 11. During lunch, students had a choice of three different soda types to mix in with their vanilla ice cream: root beer, Coke or Sunkist. The ice cream was $1.00 per scoop. 
Jill Vieira, the adviser of Gibson Southern FCCLA chapter spent lots of time planning and scheduling this event. 
"It is much easier to pull everything together now that we have hosted several Float Fridays," Vieira said. "The first couple of times, there was a lot of guessing involved, like how much ice cream will we need? How much soda? What flavors? Will we even break even? Now, we have it down to a science." 
This was the fourth year for Gibson Southern to host a Float Friday.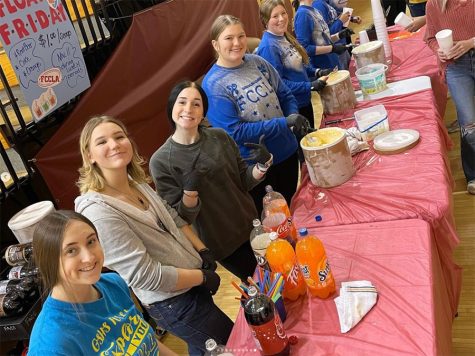 "We know exactly how much ice cream, soda, cups, straws and other supplies are needed," Vieira said. "The ice cream was donated by our area Young Dairymen Association. I also have to give a shout out to my mom for picking up all of the ice cream from Prairie Farms in Evansville — my momma is the best! The big question is who will volunteer to wear the cow costume?"
During the students' lunch on Friday, a student paraded around the cafeteria in a cow costume while jamming to music on a speaker and giving everyone high-fives. 
"I'm in FCCLA, and Mrs.Vieira asked who wanted to be the cow and no one raised their hand," the Cow said. "After a few minutes, a couple of my friends looked at me and said I should. So, I volunteered to do it." 
Jumping around and boosting people's spirits in a big cow costume is no easy task. 
"It was fun," the Cow said. "I was a little sweaty, but I was glad to see people smiling and laughing at me. It's much easier to be funny when people can't see you. I liked doing it and will definitely volunteer again next year."
The students at Gibson Southern were entertained by the cow and lined up to buy their ice cream floats for dessert. Thirty members of FCCLA took time out of their busy school days to help scoop ice cream, pour soda and take customers' money.
"Each person in FCCLA donated at least one or two 2-liter bottles of either root beer, orange or Coke," FCCLA leader Halle Pohl said. "I helped scoop ice cream during my lunch period."
Raising money was only one of the goals for FCCLA.
"The purpose is to raise money for FCCLA members to attend the State Contest, which is in March," Vieira said. "Float Friday is just also something to add some fun to the school day!"