Dance goers pack gym for annual Sunshine Sweetheart Dance
397 students danced the night away
On Saturday, December 10, the Sunshine Society hosted the annual Sweetheart dance—held in the auxiliary gym at Gibson Southern High School. Kendra Barrett is the dance organizer and the Sunshine Society adviser. This year, there were 241 girls in Sunshine Society and a total of 397 total students from Gibson Southern High School and surrounding schools attended the dance. 
Before the students flooded into the gym, there was a lot to do prior to the dance. 
"There is a lot of prep work," Barrett said. "We have to figure out what we have to do for the picture backdrop and get all of the supplies for that. We have to get all of the food, drinks, chaperones, line up the DJ, make sure everything is set in the gym, [set up] lights and doors."
As is the case most years, there were differing opinions on the music selections by the DJ. A lot of the students who attended the dance liked the music, while others thought that the song choices could've been better.
"It was really upbeat and nice," sophomore MacKenzie Stuckey said. "I loved it."
Freshman Matti Cuttingham echoed her thoughts.
"The music was really good," she said.
Just being at the dance with friends is most of the fun, and songs that did not really throw a vibe were overlooked.
"I like to get sturdy to Lil Uzi, and I really didn't care for the bad songs," freshman Gunner Alexander said. "I really didn't pay attention to them."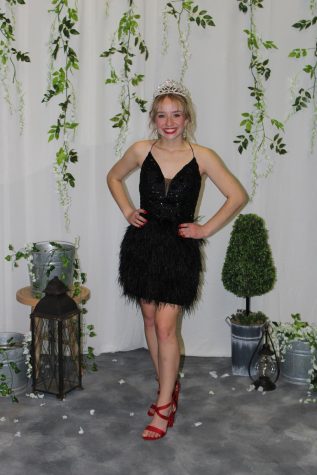 Not everyone took Alexander's approach to the music.
"It was kind of … [bad] …, to be honest," sophomore Tessa Boyd said. "The music was not very good."
Senior Sunshine member Brooklyn Casburn was crowned Sweetheart Queen.
"I was not expecting it at all," Casburn said. "My first thought that came to my mind was 'OMG, I don't even have my shoes on.'"
Voting for the Sweetheart Queen is conducted by the Sunshine Society members.
"I was so surprised," Casburn said. "Some of my friends said that they voted for me, and I was like 'Oh, that's sweet nobody else will.' And, then they called my name, and I was like, 'Oh my gosh! No way!' I felt so loved and appreciated."
There were a lot of high expectations from the students for the first formal dance of the school year.
"I expect everyone to have a fun time and just enjoy the moment," senior Issac O'Neal said. "You only have a certain amount of time here. Just enjoy the moment."
There are also those who want to see things turn up for everyone.
"I expect it to get wild and crazy," senior Alexis Tucker said.
While Sweetheart is typically filled with Gibson Southern students, there are dates from other Gibson County schools, Vanderburgh County Schools and others in the area.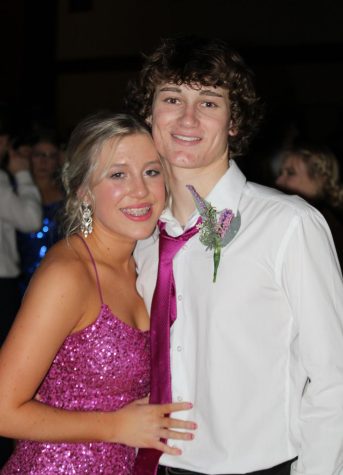 "It has been very hot and very loud but very fun," said Jonathan Hruaia, junior Eva Spindler's date from Signature School.
Barrett organizes the Sweetheart Dance for the Sunshine members as a recognition for their service to the area.
"[The sweetheart dance] is supposed to be a reward for the girls in Sunshine that do all of their community services and earn their points," she said. "It is kind of like your reward for doing all of that hard work and community service work."
Most people would agree that the dance went well. Attendees liked hanging out with their friends, the fact that there were not a lot of slow songs, the snacks and bottled water. 
"It was really good," Cunningham said. "I had a really good time. It has been really fun. I love to see everyone dressed up. It is a lot different than seeing people in pajama pants."
At the end of the night, the Sweetheart Dance organizers felt the event was a success.
"I always enjoy working the dance, and it is fun to see everyone dressed up," Barrett said. "Sometimes it is crazy [because] I don't recognize you guys when you all are dressed up and looking pretty."