Titans trek to D.C. to march for the unborn
Nine Gibson Southern students help represent southwestern Indiana in the March for Life
Gibson Southern students traveled to Washington D.C. this past weekend to participate in the March For Life. The group of nine met at St. John's Daylight Church in Evansville on Thursday morning at 5:45 and loaded onto two buses along with other people from southwest Indiana. They then traveled to Ferdinand, Indiana and picked up more people from that area. They arrived at Hotel Harrington in D.C. around 7 p.m., which was where they spent their nights the rest of the weekend. 
The March for Life rally took place on Friday, January 20, at the National Mall. This is where everyone who was attending the march gathered before they started the trek.
"At the rally before the march itself, we listened to famous pro-life advocates describe their experiences," junior Landon Kiesel said. "This is one of the coolest parts, since you get to see how many thousands of people really show up."
The first March for life was Jan. 22, 1974, and has happened every year. Some students have made the trip to D.C. for the march in previous years.
"The march was a little different from years before," junior Aleks Parmer said. "Roe v. Wade was overturned this past year, and this year's march was more of a celebration of the reversal." 
Roe v. Wade was the law that made abortion legal in all of the United States. It was overturned in 2022 by the Supreme Court. Now, the decision for making abortion legal is given to state governments. 
"We marched around the capitol building asking to make abortion illegal specifically in Washington D.C. and in all of the states," Parmer said.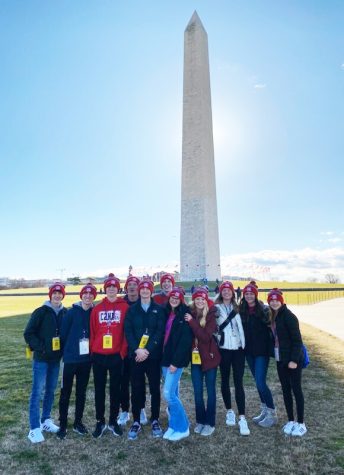 The group was in Washington D.C. for three nights. The actual march was on Saturday and lasted about three hours. March attendees had the opportunity to spend their time visiting other places in D.C.
"My favorite part about the trip was experiencing the unity of so many young people," junior Lilly Schmitt said. "Everyone was there together in support of one another to stand up for life. Even when we were visiting the museums and monuments, we saw so many people who we knew were there for the march because of shirts or hats that they were wearing. It was such an amazing thing to experience and be a part of."
All weekend Washington D.C. was teeming with people holding signs and wearing clothing in support of life.
"It was a really powerful experience, seeing all the support for the cause, and is definitely something worth experiencing," Kiesel said.