Titan soccer coaching staff resigns
Titan men's soccer left reeling after the surprising and unexpected announcement
On Friday, January 13, Gibson Southern's men's head soccer coach, Joshua Higgins, resigned. Along with Higgins, the rest of his coaching staff also stepped away from the men's soccer program: assistant coaches Adam Johnson, Steve Jenkins and Wyatt Schmitt. Higgins is the only coach who has gone on record with the resignation. He sent out a letter to the team, informing them that because of circumstances, the staff will not be coming back to coach.
"Due to some recent circumstances that were unforeseen even just a few short weeks ago, I am going to have to resign from coaching," Higgins wrote. "This decision did not come easy, as the past two years coaching you guys has been incredibly rewarding and enjoyable."
Higgins alluded to the need of both him and his coaching staff needing to put their families first, which is what ultimately what lead to this resignation from coaching.
"This is one of the hardest decisions I've had to make in a long time, and it is not how I anticipated things to be," he wrote
This news came as a shock to the team. For the captain of the 2022 season, senior Luke Appman, this announcement was disheartening.
"Higgins was just a lot of fun," Appman said. "He taught us a lot, and we really formed a connection in these past two years. It really sucks to hear that he's leaving just because the incoming freshman will not be able to get to see him in his glory."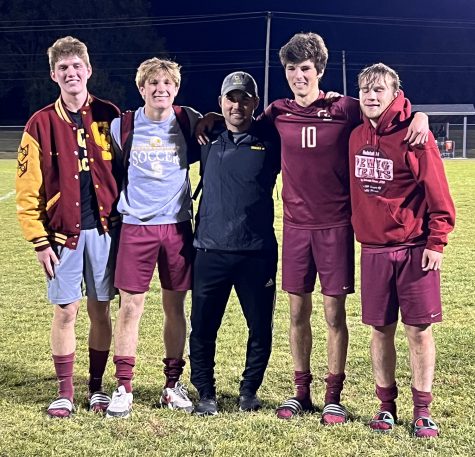 Without a doubt Higgins and his staff brought about a change to the program. Higgins focused more on conditioning in the off season than coaches before him, and it greatly affected the team.
"Higgins definitely changed the program for the better," sophomore Brayden Reynolds said. " He made us more game fit and game ready."
Beyond the field, this coaching staff was able to connect with members of the team on a personal level that many players had never felt before. Higgins knew how to get work done while still having a good time.
"The two years Higgins has been coaching me, he definitely impacted my play style and made me a better and more determined player," Reynolds said.
Junior Ben Scott had close to zero soccer experience before joining the team for the 2022 season. Under the guidance of staff, he became a starting varsity player, a rare occurrence in sports.
"I just started this sport, and they believed in me, and I got to play all of the time because they kept believing in me," Scott said. "… They taught me the most in one year that a coach has ever taught me."
Higgins and his coaching staff ended with a record of 26-13 over two seasons, winning one Sectional title.