Lady Titan swim season comes to close
The Sectional at the Deaconess Aquatic Center was the last swim this year
The Gibson Southern girl's swim team went up against 12 other teams this past week in the Sectional competition. Prelims were on Thursday, February 2. Nine of 14 Lady Titans made it out of prelims and competed a couple days later in the finals on Saturday, February 4. Despite having to travel 25 minutes to Tecumseh for every practice and having no divers on the team to earn them points, the girls took 5th place in Sectional 20. 
"I think it should be noted that we not only finished 5th but the two schools that beat us have an enormous enrollment, and the other school has a pool and club swim team which feeds its program," said Gibson Southern girl's swim coach Erin Maurer. The Lady Titans were defeated by Castle, Mount Vernon, Evansville North and Evansville Reitz Memorial. 
Gibson Southern senior Ruthie Mercer competed in four events: two relays and two individual races. She broke a school record in the 500 freestyle on Saturday with a time of 5:50.20, finishing in 8th place. The previous record was 5:51.72, which she set in 2021. 
"Before I raced, I told myself that this is the last time I'll be swimming as a Lady Titan," Mercer said. "I needed to push myself and leave it all in the pool."
The 400 free relay team of Mercer, seniors Allison Adler and Hailey Richter and junior Laira Cloin earned 5th place in the finals. 
"Going into [the] Sectional, we really focused on making sure our bodies stayed healthy," Mercer said. "We did lots of high-intensity training with plenty of rest."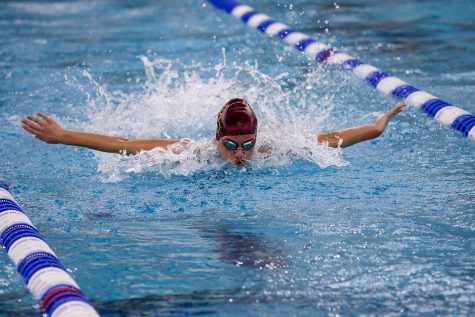 The Titans also placed 5th in the 200-yard free relay team of Mercer, Adler, senior Kaleigh Baehl and sophomore Alyssa Baehl.
The 200-yard medley relay placed 5th as well, with a time of 2:03.97.
"Our season was really good this year," sophomore Mavery Chandler said. "Our medley relay team broke the school record, which was a fun achievement for us and our team." 
The relay team broke the record at prelims with a time of 2:03.87.
"The girls did a great job and continued to surprise themselves with personal bests from the start of PAC until the last race at Sectional," Maurer said. "As I like to say, hard work works. These girls were disciplined and consistent in their training. In the world of swimming, that's a winning combination."