Graham scores 1,000 career points as a Lady Titan
Chloey Graham joins the elite 1000 point club
On January 2, the Lady Titans took on the Barr-Reeve Lady Vikings. Going into the game, junior Chloey Graham had 977 points under her belt. Graham's main goal that night was a win, which the Lady Titans secured,  coming out ahead of the Lady Vikings, 48-40. 
"I was a little anxious because I knew I was close, but after a few minutes, I was just in the moment and forgot about it all," Graham said.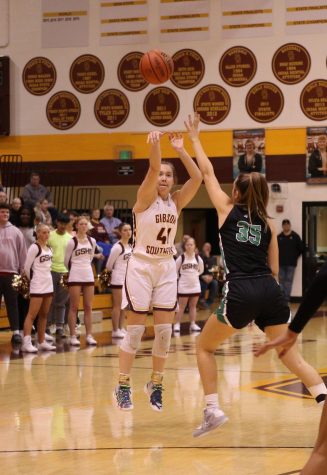 Leading scorer Graham put up 23 points to score 1,000 points in her career. Hitting the 1000th point milestone has been a goal for Graham. 
"I always knew it was possible, as long as I worked for it," Graham said. 
Graham is the sixth Lady Titan in Gibson Southern history to accomplish this feat. Graham is currently fifth in Gibson Southern's all-time scoring. First place is Maddie Raley from the class of 2016; she scored 1490 points.
Graham made the varsity squad as a freshman and has been a scorer from the beginning.

"When Chloey came in as a freshman, she was pretty much a straight driver," varsity head coach Kyle Brasher said. "She was really good at getting to the rim and finishing. During her sophomore year, she added a three-point shot that is a weapon and has only improved upon that this season. She also has improved her pull-up shot and created separation on her drives. She truly has become a three-level scorer, which is pretty tough and special to watch it unfold."
Graham is averaging 17 points per game and so far has 390 points now going into the Regional. She shoots 40% from behind the arch, which comes from hard work not only in the season but also in the off-season. 
"Chloey has put in a countless number of shots in the off-season and is always looking to improve her game," Brasher said. "She is a three-year member of our 10K Shot Club and has easily gotten that many each off-season. Her first off-season was the COVID summer, and Chloey got over 100,000 shots that off-season. Chloey is also a student of the game and looks for ways to attack the opponent and find their weaknesses."
Teammates feel Chloey's scoring acts have helped out the team.
"All of us are confident in her ability to score," senior Ava Weisheit said. "It allows a lot of the team to fall into important roles that don't always include scoring. She draws a lot of attention from opponents because of her ability to score and sometimes that puts the rest of the team in better positions to score as well."
Lady Titan 1000-Point Club Members
1. Maddie Raley – 1490 points. Class of 2016
2. Tracy Hyatt – 1289 points. Class of 1986
3. Meredith Raley – 1288 points. Class of 2020
4. Tabby Klem – 1239 points. Class of 2019
5. Chloey Graham – 1145 points as of February 6. Class of 2024
6. Lauren Zebart – 1138 points. Class of 2009.