Titan swimmers continue setting records
Titan's continue to improve upon school record times
The Titan swim teams have broken record after record throughout their 2022-2023 regular season. The girls' swim team broke the 200 Medley Relay record at the PAC meet with a time of 2:04.95; the previous record was 2:08.01. The relay team consisted of freshman Kynlee Reeves, sophomore Mavery Chandler, junior Laira Cloin and senior Hailey Richter. 
"It was super special; we actually didn't know we were close to the record until the meet before," Cloin said. "So, we were super determined to get it. During prelims, we wanted to race the other teams but beat the record as well. We were super excited when we did break it because the record had not been broken in 13 years. It was a super memorable moment with the team."
The boys' team broke six records of its own. Junior Dawson Maurer broke the individual records of the 200 Freestyle, 50 Freestyle, 500 Freestyle and the Individual Medley. Maurer was also a part of the 200 Freestyle Relay, as well as the 400 Freestyle Relay, that both included senior Lucas Lingafelter, freshman Owen Mercer and sophomore Jake Richter. In the 200 Freestyle Relay, their record-breaking time was 1:33.20, and the 400 Freestyle Relay time of 3:26.51.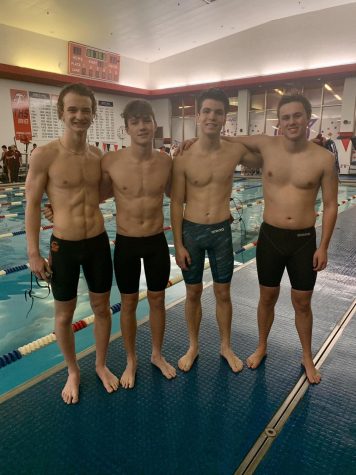 "It feels great to have a few records, but they aren't the main goal of the season," Maurer said. "My main goal is to get back to State, and the records will come with that. The record that I am most proud of this season would be the 400 Free Relay. We broke it at the end of PAC, and we broke it by more than 8 seconds."
This season the Titans have broken seven records in total, with a chance to break more in the postseason. 
"The records are fun to break, but it's really exciting to see boys make the finals at PAC who have never made finals or podium," head coach Erin Maurer said. "Our success has been an effort across the board; everyone is doing their part. I'm less interested in records and more interested in seeing everyone perform to the best of their ability from here on out."
The Lady Titan's Sectional round is Saturday, February 4. Meanwhile, the boy's Sectional will take place just a couple of weeks after, on February 24 and 25.
Current Swimming Records