Checkmate Titans, chess makes a comeback at Gibson Southern
From chess.com to students breaking out boards, more and more students are playing chess
To start off the new year, many people decide to pick up new hobbies or activities. Many Gibson Southern students found chess to be a new and exciting challenge. 
"Recently it became more popular on TikTok," junior Tegan Baker said. "Then, I started playing at school, and my other friends started playing at school."
Baker said some referred to the rapid increase of playing as a "phenomenon". This phenomenon reaches beyond the junior class. Freshman Landon Phares plays regularly on chess.com on his chromebook. This is where Phares learned to play the game.
"There is a learning mode online," Phares said. "I learned from there and from some friends."
Even teachers like Spanish teacher Scott Walden have noticed an increase in students playing the game. Walden used to lead a Chess Club at Gibson Southern in 2015 and 2016. This club would partake in tournaments with Evasnville schools and practices with Walden.
"I've noticed a lot of kids on the chess.com site playing," Walden said. "I see them on their Chromebooks and on their phones playing; I've seen them walking in the halls playing it."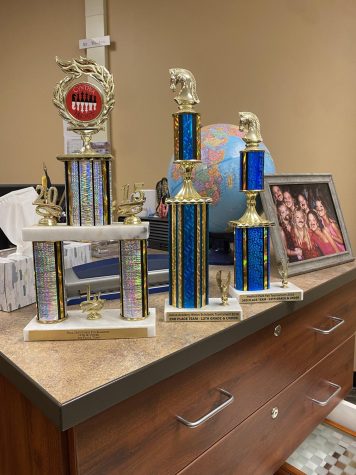 During their time, the club placed in three tournaments. They won first in a 2015 tournament and second and third in two 2016 tournaments. Walden had to end the club because students stopped showing up; however, there is a chance of hope for those who would want a club to come back. Walden and students like Baker are both interested in the return of a Chess Club.
"I saw in one of the past yearbooks that there was a chess club, and I think we need to bring that back," Baker said.
Baker prefers the board to the computer. Usually, he plays juniors Jeffmar Navidad and Baker Calvert, sophomores Maddux Potts and Cole Martin, and others. Baker also believes he is the best chess player that he knows and that the knight is the best piece.
"I feel like on the board it is easier for me to calculate everything that is available," Baker said. "When I'm online, I mess up more. On the board, I dominate; I dominate Jeffmar on the board."
Baker and Walden see chess as a good use of time, just for different reasons. Walden likes that kids are playing chess instead of being on TikTok or other social media. Baker thinks that chess has positive impacts on people
"I think it is great that it is coming back, and I think it helps brain development in young children … and should be a requirement in a class to learn chess," Baker said.