Band students compete at solo and ensemble
21 students received a gold rating with 11 advancing to State
Titan band students traveled to the Academy for Innovative Studies, the old North High School, in Evansville on Jan. 28, for the Indiana State School Music Association's solo and ensemble competition.
A total of 21 performers earned a gold rating at the competition and 11 of those students advanced to the State competition on Feb. 25, at North Central High School in Indianapolis
The experience at solo and ensemble is usually positive with some nice judges, but that is not always the case.
"My judge this year was extremely harsh," senior Bronson Ivy said. "He critiqued me for everything that I did as soon as I walked in the room."
Other judges were a lot more relaxed and understanding towards the musicians.
"My judge was super cool," senior Tristan Cosburn said. "He looked like he was in his late twenties, early thirties. He was a very nice dude, and he knew a lot about music in general. He had a lot of great ideas, and he even gave me some references to other people to listen to for my piece."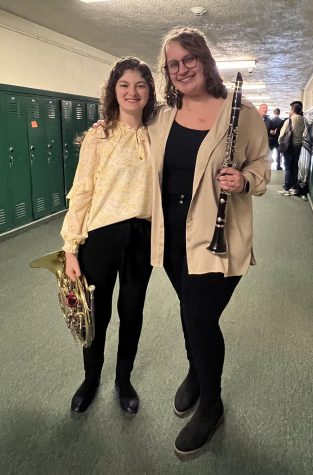 Those who advanced to State have more pressure to perform well in front of stiffer judges.
"I like going to State because it pushes me to the more uncomfortable zone," Cosburn said. "Which, I feel like if you want to get better, you have to get used to being uncomfortable."
Some students have done the State competition in the past and are glad they are not traveling to Indianapolis this year.
"I will not be going to State," Ivy said, despite qualifying for the competition. "It is my senior year. Since freshman year, I have planned a relaxing final year of high school.  As such, I do not feel the need to do it this year. I went to State previous years and rocked it. However, I am just not interested in doing it again."
The most important thing about the solo and ensemble competition is that students get better on their instruments and grow their talents as musicians. 
"It is a great way to prepare people to get better at their instruments and improve their skills," freshman Glenn Mayer said. 
Winstead echoed Mayer.
"Even though solo and ensemble is a stressful time for the students, I hope they improve on their instrument," Winstead said. "I had a quote on the board that said 'Success doesn't always mean a gold rating. Success means getting better on his or her instrument,' and that is the truth. We can't control judges, nerves and outside factors, but we can control that the student got better on their instrument."
Titan band students began thinking about the competition after the fall concert but did not really begin preparing until the start of the second semester.
"Honestly, the kids didn't start solo and ensemble until we got back from Christmas break," Winstead said. "Most of them had their music before Thanksgiving break."
Selecting one's music is an important aspect to the annual competition. The difficulty of the pieces is ranked by groups, with group one music being the most difficult, allowing those who earn a gold rating at District to compete at the State competition. Winstead makes the group decision for his students based on their playing abilities and helps them to improve their playing abilities.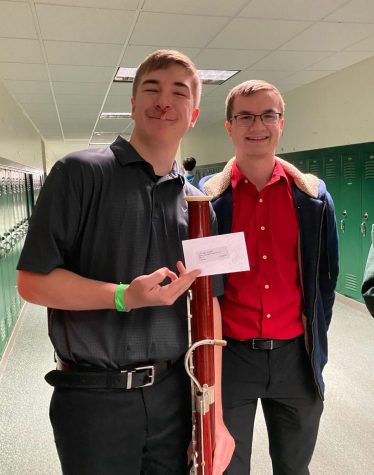 "Group one, a person has to go off a list that the Indiana State School Music Association provides us," Winstead said. "If it is a group two or a group three, it would just really depend on the kid and what I think that the kid needs to work on the most. Sometimes the kid needs to work on developing their technique. We would find a solo for that. Sometimes it is more of a tone quality issue, so we would find a piece that would just make the tone quality better. It may also be improving the range of the instrument and we might try to pick something that is higher or lower depending on what instrument they are playing."
During the time period that the students have leading up to solo and ensemble, students have a chance to work by themselves and find a good recording of their solo piece. Winstead works with everyone during that time. 
"Since it is just me, students will come into my office about two to three days a week during class time and would get to work with me for about five minutes or so," Winstead said. "Some of them are in my general music class, so those kids would get a little bit more time. We did a few after school lessons. But, mainly it is the student practicing on their own and trying to get them a good recording of their solos. I try to make recordings on the piano for the students."
Titans made a strong showing at this year's competition, which should correlate to a solid concert band performance later this year.
Students who earned a gold rating and advance to State:
Ava Greene
Allison Hale 
Baker Calvert 
Emily Stevenson 
Bronson Silvers 
Tristan Colburn 
Ethan Stevenson 
Anna Folsom
Caleb Douglas 
Bronson Ivy
Aiden Hammer
Students who received a gold rating
Hadassah Hutchinson 
William Weaver
Isaac Douglas
Kalee Thomas
Ethan Grounds
Dakota Kinsey 
Colton Childers
Devin Bane
Austin Wilson
Brayden Pegram