Dossier: FACS Teacher Jill Vieira
Family and Consumer Sciences teacher Jill Vieira is in her seventh year of teaching in the South Gibson School Corporation. When she was first hired, Vieira split time between both Fort Branch and Gibson Southern. Five years ago, as her classes continued to grow in both size and popularity, she was moved to teach full time on the high school campus. From nutrition classes to textiles to child development, Viera does not get a break when she steps into her classroom.
___
Southerner: What is your favorite quote and why? 
Vieira: "Some of my quotes would be, 'I want more bang for my buck.'
Another one that I say is, 'More nutritional bang for my buck.' All that I can think of right now is Ricky Bobby – 'If you are not first, you're last.' Another one that is possible for me is to, 'Put your big girl panties on.'"
Southerner: What is your favorite TV show?
Vieira: "I like anything. I love true crime. I'm a true crime junkie."
Southerner: What are some wishes you have?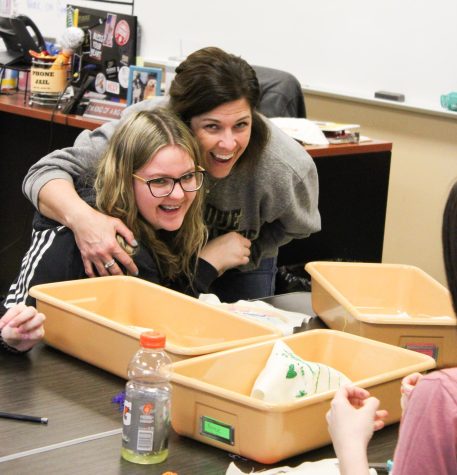 Viera: "I wish for parents to live forever, and I want my kids to have a good life.
Southerner: If you could keep any animal what would it be?
Vieira: "Well, everybody knows I love my cows, but cows are here for us to nourish ourselves. I would say I would have to be a dog because then you know dogs have it made right."
Southerner: Would you rather do schoolwork as a group or by yourself? 
Vieira: "That's a hard one because as a teacher, I struggle with group work because we all know that there's someone who will not do anything and the people that will be super bossy. I always try to mix it up as much as I can."
Southerner: What would be your dream field trip?
Viera: "Well, if it has to be a field trip, then it has to be school-related; we're going out for an educational purpose. With me being the foodie, I would say we would take a field trip, and we would tour around Italy and the Mediterranean area. I would like to sample food, and then, of course, we'd be down there by the Mediterranean Sea, then we'd get to go hit the beach with some food."
Southerner: What do you like most about school?
Vieira: "I love working with my friends. I have my friends here that I get to work with, so I love that because if you don't enjoy the people that you work with, you hate coming to work. And, for me, every single day is different, especially with what I teach. I love what I teach. Every single thing we do in this classroom you will be able to utilize every day for the rest of your life."