Chandelier Night lit up Prom-goers' evening
Formal attire and an elegant setting made Prom 2023 a success
Gibson Southern students and guests had fun at the biggest dance of the year: Prom. Saturday, April 15, was a day filled with appointments for hair, putting on fancy dresses, guys getting into suits and tuxedos, dinner and dancing.
Grand March returned to the main gym for the first time in two years, while Prom was held in the auxiliary gym. After Prom was in the main gym. Between 350- 370 Gibson Southern students and dates from other schools came to have an unforgettable night together.
"I just wanted to have a good experience, something that I am going to remember so I could tell my kids someday," junior Thomas Clevy said. 
Planning a successful Prom that students would enjoy took a lot of preparation and time.
"A lot of the preparation starts back in October or November, just getting our class officers and then the class officers to come together with their vision of this Prom," Knaebel said. "Mrs. Zimmer and I are the teachers who are sponsoring this, but really, it is the juniors who got this together. They found the picture, decorations and they found the manpower to help put their thoughts into life and really just put it all together."
Junior Laria Cloin was one of the Prom Committee members who helped create this year's dance.
"We wanted something more elegant," Cloin said. "So, we went with champagne, pink and green."
Since Grand March was held in the main gym this year, parents were able to go to watch the student showcase in person.
"I think Grand March went pretty smoothly this year," senior Camryn Wallis said. "I liked the way it was all set up."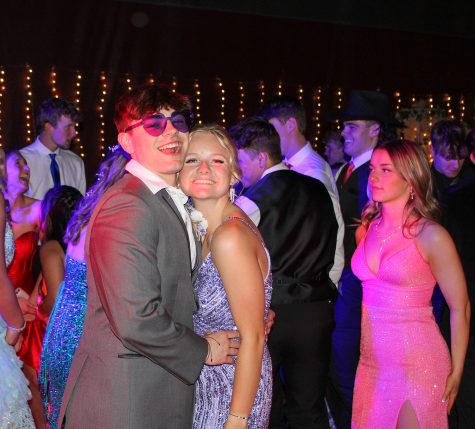 This year, the Prom Committee helped the DJ form a playlist that all of the students would be able to enjoy while dancing with their friends. A lot of the students enjoyed the music very much, like senior Gracia Jones, but others thought the music could have been better. 
"The music was terrible," senior Patton Adams said. "It wasn't really my environment. I know some people had fun, but I did not."
As students walked into the auxiliary gym, they saw all the decorations that the Prom Committee put up to light up the gym.
"I thought it was really good," senior Isaac O'Neal said. "I liked all of the lights that were put up. I really like how they added tables this year so we could put our stuff down and sit down for a little bit."
There was more effort put into this year's Prom setup, helping transform the auxiliary gym.
"I thought the decorations were really pretty," junior Shaylie DeLong said. "It was like Sweetheart but even better." 
All of the aspects of Prom came together, which made for a good experience for almost everyone.
"I thought it was really fun," O'Neal said. "It had a lot of good music, and I had a good time dancing. There were also a lot of good snacks."
Haley Edwards, a graduate from 2022, was impressed with this year's dance.
"Prom went really well," Edwards said. "It was better than the Proms when I went here."
As for some people, this was their first Prom. They felt like the overall experience was great. 
"It was pretty crazy," freshman Austin Burns said. "I felt like it was going to get wild."
One of the high points of the night was crowning the Prom Queen and Prom King. Senior Rebecca Smith was crowned Prom Queen.
"This means a lot to me because I was not expecting to get it," Smith said. "I was expecting to have a good time with my friends and dance around."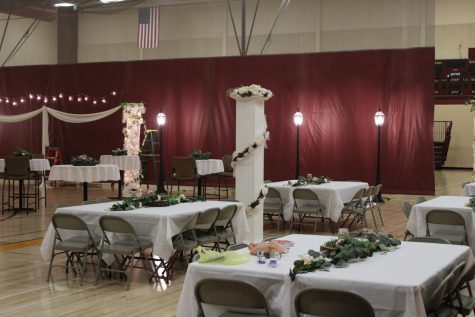 Senior Jake Decker was named Prom King.
"I did not expect this to happen," Decker said. "I had a little bit of hope for it, but I was still surprised and happy when I heard my name. It means a lot to me because I brought a guy to this Prom, and there are not a lot of people here at this school that I see do that. I am really happy that I was able to be someone eligible to win a title like this and be my true self while doing it."
After Prom started at 11 p.m. and lasted until 2 p.m. After Prom was filled with games, prizes and food. 
"I had a lot of fun," DeLong said. "The mechanical bull was really fun."
"It went well," Elpers said. "There were a lot of new games this year that I think were a big improvement from last year."
At the end of the night, Prom was a success.
"Just enjoy it," O'Neal said. "You only have two or three years of it. Just take it in as much as you can."