Without any news from Taylor Swift on any tours since the Reputation Stadium Tour of 2018, on Nov. 1, 2022, Swift announced her return to the world of touring with her new show: The Eras Tour. The Eras Tour is a three-and-a-half-hour long concert in which Swift takes her fans through eras of her songwriting, playing songs from almost every single one of her albums. Many Titans from Gibson Southern consider themselves Swifties and have been to The Eras Tour and feel connected to Swift.
"I've listened to [Swift] forever, her music makes me feel understood and I love her personality," sophomore Sydney Susott said. 
Though many may see The Eras Tour as just a concert, it means a lot to fans of Swift's music. There are even traditions that Swifties follow when they attend The Eras Tour. One tradition is friendship bracelet making, where concert-goers make friendship bracelets inspired by Swift's albums or references and trade them with fellow fans also attending the concert.
"
… she's really a role model to me that no matter who you are, education is important, and even successful people need to go to school.
— junior Allison Spindler
"I got one of the water bottles, and it was almost completely full with bracelets, it was a very welcoming environment for [bracelet trading]," sophomore Kynlee Reeves said.
Another tradition that Swifties take part in is dressing up as their favorite album or era while attending the concert, many spend time even hand-making their outfits. 
"My first night I got white jeans, took a paint marker, and drew different symbols from each album on them, and then rhinestones [on] them," Reeves explained. "Then, I had a black top with a bunch of colored stones representing the albums."
Though the Titans who attended the concert love Swift, the journey through getting the tickets was not easy. TicketMaster, the site tasked with making sure ticket sales went smoothly, kept crashing because of the number of fans trying to purchase tickets.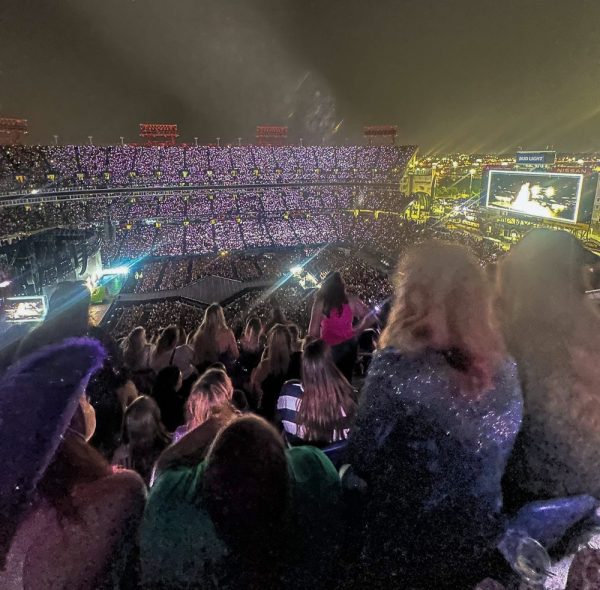 "The Nashville queue had a huge malfunction, and it took the entire school day to get through the line and get our tickets," Reeves said. "I got out of third period that day and [my sister] told me that the site was down."
Many people became new fans of Swift through The Eras Tour. But, for veteran fans, Swift means more to them than just music. She's a role model and someone up to whom they look.
"She has just got her doctorate for something in the English field, so she's really a role model to me that no matter who you are, education is important, and even successful people need to go to school,"  junior Allison Spindler said. 
From being a music artist to a role model, Swift has influenced the world with her music, as evident from her tour that could net her $6 billion.