Emma Greene raises money with her painting in Vaudeville 2019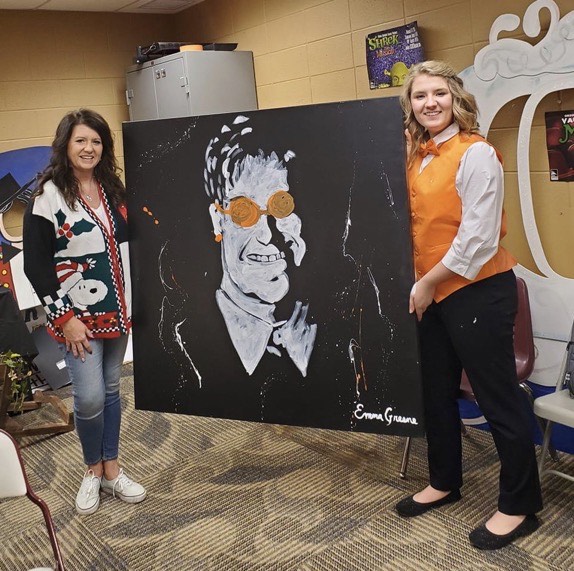 Gibson Southern High School senior Emma Greene dropped jaws this past weekend at Gibson Southern Theatre Department's production of "It's A Good Vaudeville, Charlie Brown." In one of Greene's performances, she painted a portrait of one of her inspirations, Elton John. Not only did she complete the painting in only a matter of minutes, but painted with the canvas upside down. 
 "Painting is relaxing," Greene said. "It's just fun. You can show emotion. I'm not always the best speaker, so I can show emotions through painting. I've always just kinda looked at something and tried to imagine what colors lay behind it and I love to find those colors."
As the song dwindled to an end, Greene put on her final touches, rotated the canvas 180 degrees, and stepped back to give the audience their first view at her work. 
"I enjoyed listening to the reactions of the crowd as they waited in anticipation for the revealing of Elton John," junior Rebecca Kluesner said. "I've always known how talented Emma is and I was excited for her to showcase that." 
Greene painted a total 14 portraits by the time the final curtain dropped. She kept the original that she auditioned with but had some creative ideas for the others. She gave one to a beloved aunt and others to be distrubed later. Greene auctioned off two of the portraits at two of the shows. The two portraits raised a total of $610 which Greene donated back into theatre. The raised funds went towards the ITS scholarship fund which rewards Gibson Southern ITS seniors. 
 "The only reason it turned out as good as it did is because of an amazing crew and an amazing pianist, Maci Beard," Greene said in her final remarks.