Lady Titans swim take first in triangular meet
Hang on for a minute...we're trying to find some more stories you might like.
Yesterday, the Titans and Lady Titans swim team traveled to Boonville for a triangular meet between Gibson Southern, Boonville, and Pike Central. This was also the Titan's first swim meet of the season. For a few freshmen, this was their first-ever swim meet, freshman Kyle Stunkel said, "The first meet was fun. I was a bit nervous at first, but after I jumped into the water and got my first race done it was much easier. I can't wait for the next meet on Saturday."
There were a few lady Titan swimmers who got first tonight; Tierney Maurer took first place in the 100-meter breaststroke, Ruth Mercer took first in the 500-meter freestyle, and Ruth Mercer, Hailey Richter, Keri Steckler, and Tierney Maurer took first in the 400-meter freestyle relay. "The meet went well tonight, lots of good times (race times). The best part about it all though was seeing the team support each other. We all had a great time tonight." freshmen Ruth Mercer said
At the end of the meet, the lady Titans swimmers took first with 124 points and the Titan swimmers took second with 85 points.
"I was very impressed with how the boys performed tonight," coach Knaebel said. "This was their first meet, and they had a lot of good times (race times). It was amazing seeing all the returners swim this year compared to last year. Overall the team did well tonight. The girls have a lot of depth in the team. The boys, not so much. We lost a lot of good swimmers last year. Although, I am excited about what this swim season could become."
About the Writer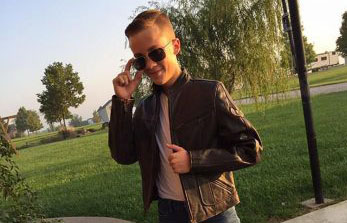 Christopher (Chris) Spear, Photographer
Christopher Spear is a sophomore who plays soccer, swims, runs track and plays lacrosse. This is his first year being a photographer and part reporter...