A heart to Hart about teaching
Eva Spindler sits down with new manufacturing teacher to learn more about her.
Brooke Hart is entering her first year of teaching at Gibson Southern High School teaching the Intro to Manufacturing class. She also teaches classes at Fort Branch Community School and Haubstadt Community School. Hart previously taught at Boonville Middle School for almost 15 years and at St. James Catholic School. While this is her first year teaching at Gibson Southern, Hart is no stranger to the school. Her daughter, Taylor Hart, is a senior this year at Gibson Southern and her son, Travis Hart, is a Gibson Southern graduate.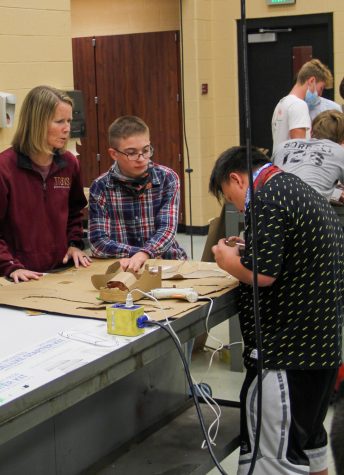 Southerner: What sort of morning routine do you have to get pumped up for class?
Hart: "I don't have anything majorly specific, I go to Fort Branch first, so I usually try to get to Fort Branch between 7:00 and 7:15. I just make sure everything is ready to go for the day; usually I'm getting everything ready to go for all three schools. And, then I have a homeroom, and it's a sixth grade homeroom, so making sure the sixth graders are ready for the day. My routine is pretty much the same, get there between 7:00 a.m. and 7:15 a.m.. I might have to cut wood for something or get projects ready, just make sure I'm ready for the day. 
Southerner: Do you find it hectic since you have to go to so many different schools?
Hart: "Yes, it is very hectic. I feel like I'm running a lot. Fort Branch in the morning, I run out here (Gibson Southern) for an hour, and then I head to Haubstadt. I drive a lot."
Southerner: Did you do anything fun in high school or were you in any clubs?
Hart: "I played a lot of sports. I played volleyball and basketball."
Southerner: What do you think is the best and worst thing about being a teacher?
Hart: "The best thing is when you help somebody learn something new or just get better at something they already knew how to do. So, just helping kids. The worst thing about being a teacher is when kids make bad decisions in class. Or, just how busy everybody is right now, everybody is so busy."
Southerner: Before Gibson Southern, Fort Branch, or Haubstadt, where did you work?
Hart: "I taught a very long time at Boonville Middle School, almost 15 years, and I taught at St. James in Haubstadt."
Southerner: Where did you go to high school and college?
Hart: "I went to Boonville High School, and then I went to USI."
Southerner: What is your favorite thing about working at Gibson Southern so far?
Hart: "Everybody is just very nice out here; everybody is very helpful: staff, students."
Southerner: What is your favorite memory from high school?
Hart: "I was a part of two Sectional championship teams. We won the Regional when I was in high school for volleyball too. So, just being a part of a sports team would be my favorite memory."
Southerner: How do you want students to feel about the time spent in your class?
Hart: "I want students to feel like they're valued, like their opinion matters. I want them to feel like they are in a safe, trusted environment."
Southerner: If you could take your students on a field trip anywhere, where would you go?
Hart: "I would love to say the beach, but that wouldn't have very much manufacturing to it. I would love to take them to some type of big manufacturing plant so that they can see all the different jobs that they can see and do. It doesn't necessarily have to be Toyota, it can be anything."
Southerner: If you were given a superlative when you were in school, what would it have been for?
Hart: "I can't remember if I had one or not."
Southerner: If you didn't, what do you think they would have given you?
Hart: "Quiet."
Southerner: What is your favorite song?
Hart: "Anything by George Strait."
Southerner: What is one thing you want to say about your class that not a lot of people would know?
Hart: "We do not weld. It is not a welding class."
Southerner: What is your class?
Hart: "It's Intro to Manufacturing, so it's like all the ins and outs of manufacturing, the different aspects of it. Multiple layers of manufacturing. Some kids are interested in the safety aspect, some kids are interested in manufacturing where they would go in and be maintenance and work on big machines. Some kids are interested in the part of the assembly process where they're on the line at different places, so we go through all that. We're working on manufacturing something right now, a picture frame."
You can find Hart in room D105. Her email is [email protected].