Wheels up and the dirt flies for Maikranz
Racing quads has become his sport of choice
Most high school students enjoy an afternoon of riding four-wheelers on weekend afternoons with friends, taking back roads to familiar trails and riding areas. However, the joy of riding quads goes beyond that for sophomore Eli Maikranz, who has a need for speed. Maikranz took what is a hobby to most and turned it into a sport in which he competes year-round, racing four-wheelers across the United States.
Maikranz got into racing only a few years ago but saw his passion for it grow.
"I first got into racing in 2019 at a fair race, and I have been hooked ever since," he said. "It was like three months later, though, when I really started taking racing seriously."
The fair race circuit was something that was more fun than anything. The stakes were not high, and the equipment Maikranz needed did not have to be the best. That soon changed for him as he found his attraction to the sport.
He started riding at a young age and has worked his way up to bigger four-wheelers.
"I first started riding when I was like eight or nine on an older quad," Maikranz said. "Then I moved up to a 125 and raced it once, then eventually we built our new quad that I ride and race with." 
There is more to a race than showing up with a custom-built machine. Trucks and trailers must be loaded and properly equipped, as well as other details ironed out before the race even begins. Then, on the day of the event, there are other factors that must be determined when arriving at the track.
"An average race is about 10 minutes," Maikranz said. "It really depends on how big the track is. It could be 1:45 lap time or up to a 2:00 lap time, and we do four laps of that. So, it really just depends on the size of the track. Tracks also could get really gnarly and rough, which could also affect lap times. The number of riders is always about the same every race, I would say between 20 to 30 per class in the 250 race."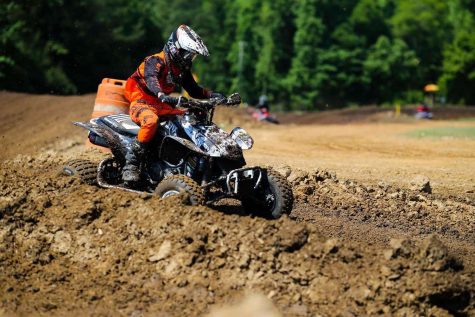 Racing quads is a niche sport, lacking big names commonly known by the public. But, Maikranz looks up to many riders, with one who especially stands out from the rest.
"One rider I look up to is probably Thomas Brown," Maikranz said. "He is a rider with a lot of grit and determination, and that is something I really like about him." 
Maikranz has made many memories at the race tracks over the years. But, he definitely has a favorite.
"My favorite memory was probably at my high point," Maikranz said. "It was my first ever national, and I had goals of top 15. I ended up getting like 8th in one class and 9th in the other, and that was out of like 30 riders from both classes. So, that was really cool."
As the seasons turn and the ground stays a little damp, Maikranz continues to practice and race, continuing to improve at the sport he loves.