Don't get your tinsel in a tangle; just celebrate!
Who says the Christmas spirit should only hit after Thanksgiving?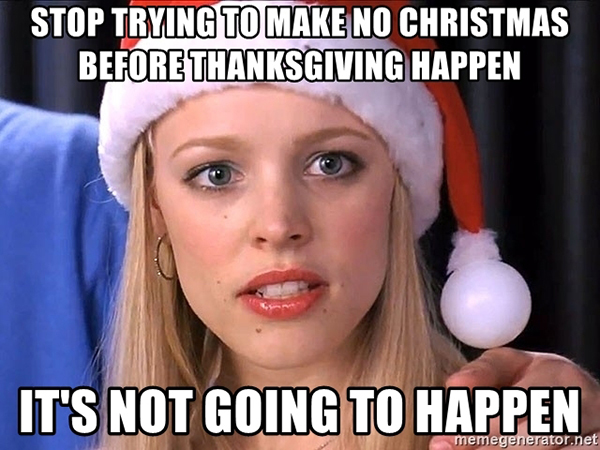 As Christmas is quickly approaching the age-old argument has risen: When is it ok to start celebrating? Many argue that it is unacceptable to start celebrating until December 1, but I believe that it is much more enjoyable to start earlier.
A huge part of Christmas is the music. Who doesn't love listening to the jolly tunes they play this time of year? Some people say you can't listen to this music until after Thanksgiving, but I think that you shouldn't have to wait. If the songs make you happy, you shouldn not hide it. Sing that music loud and proud, as early as you want.
Decorating is another large aspect of Christmas. Many people decorate the inside and outside of their houses with lights and trees. You often see Christmas lights and decorations start to appear the weekend after Thanksgiving, but in my family we start earlier. We put our Christmas trees up in early November. The decor helps us get into a happy, festive mood.
One of my all-time favorite parts of the Christmas season is wearing different holiday outfits. I have multiple festive shirts and other clothes that I like to rotate throughout the season. However, I usually wait to wear these until after Thanksgiving break. I would like to wear them earlier, but I feel as though I would be judged or frowned upon for doing so. This type of judgement from so-called "Scrooges" is what discourages many people from embracing their Christmas spirit earlier in the year.
When arguing about when to start celebrating Christmas, many people point to the fact that you would be "skipping" or not dedicating enough time to Thanksgiving. However, when preparing for Christmas at the same time as Thanksgiving, you are not skipping over the holiday. You can go to parties and give thanks for people in your life while listening to Christmas music or wearing a holiday sweater.
The Christmas season is a time that a majority of people find to be fun and joyous. I like to celebrate Christmas because it simply makes me happy and puts me in a good mood. While others might not enjoy Christmas as much, that does not mean that they should bring others down. Even if you do not want to celebrate Christmas in November, some people do, and that is ok. If having a Christmas tree up makes someone's day a little bit brighter, they should not be judged or shamed for it.