Gibson Southern students learn to lead at FCCLA Fall Rally
Students from around Indiana gathered to spend an afternoon learning and networking
On Wednesday, Sept. 28, 19 members of Gibson Southern's Family, Career and Community Leaders of America chapter made the trip to Danville to partake in Indiana's annual FCCLA Fall Rally. The theme of this year's event was "Game On."
This year marked the fifth year that Jill Vieira, the chapter's adviser, embarked on the trip. Previously, Fall Rally took place at several Indiana colleges such as Purdue University and Ball State University. The past two years, however, the event has been located at the Hendricks County Fairgrounds.
The trip began with an early start, leaving Gibson Southern at 5:45 a.m. After the two and a half hour bus ride, the group arrived at the fairgrounds. Students from high schools across the state started the day listening to a presentation given by Mary Katherine Gunn, National FCCLA President.
"She was great to hear," Vieira said. "We broke out into smaller sessions after that."
Schools were put into groups and attended different presentations and activities throughout the day. The sessions focused on Family and Consumer Sciences, including baking and pastry arts, fashion and textiles and leadership.
"We listened to lectures about safety, consumer sciences, healthy habits and fashion," junior FCCLA officer Claire Wisnoski said. "We did an exercising seminar, it was a lot of fun. My favorite part of the trip was learning about culinary skills."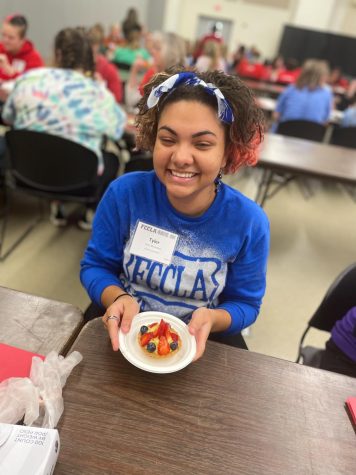 Many of the sessions focused on teaching students skills about helping people and being a leader.
"I learned new ways of being a leader," senior Amelia Robinson said. "It taught me great skills to use in future career paths."
After Fall Rally concluded, the chapter took a trip to Bloomington, Indiana to visit Indiana University's campus.
"I had to put on my special shoes with thick soles since we went to IU's campus," Vieira said. "I wanted us to get out and enjoy the rest of the day somehow, so we just cruised through Bloomington."
Vieira began FCCLA at Gibson Southern five years ago. FCCLA is the Career Tech Ed program to FACS, the classes Vieira teaches.
"I wanted to try to get that started so that there is another opportunity for students to have another group they can belong to, be a part of," Vieira said. 
Several students partake in FCCLA throughout high school. However, many, like Robinson, start later.
"It is my senior year," Robinson said. "I have always wanted to join, and this was my last chance."
FCCLA revolves around community service and being active in the community. Vieira believes that it is important to educate people about these topics.
"The goal is to get together as a group and be active in the community," Vieira said. "That's kind of a big goal, to help educate. FACS is to strengthen the family and community resources. That is our goal, to help students be productive members of family and society."
The chapter plans to partake in multiple community service projects throughout the year. They will also be hosting their popular fundraisers: Float Friday and Letters from Santa.
"As a chapter we will be doing some activities at the Ronald McDonald house," Wisnoski said. "We are going to try to do something for a food bank. We aren't really sure right now, but in the future we will have more plans."