Gibson Southern adds new mural in theatre hall
Outside of the theatre classroom, a new mural pays homage to Gibson Southern
Gibson Southern High School has a new addition to its walls, a mural paying homage to the school and its history. The design and creation of the mural was organized by Gibson Southern's art teacher Laura Russell, Principal Jon Adams, and former students Geneva Sagers and Megan Weaver — who were both freshly graduated at the time and stayed over the summer to complete it in mid-to-late June. It is located between the theatre arts room and weight room. 
The design was based around bringing a sense of school spirit that would embody both the early years of Gibson Southern and the late years. It includes a time stamp of the year Gibson Southern was established.
"We wanted to encompass all students and make it so that anyone that would come into the building would be able to relate to it," Russell said. "That was the point of putting 'Established in 1970' because it was when the first part was built. It brought the old and the new together."
The mural also includes the school crest. Each of the four squares stands for something different: academics, sports, arts and leadership. The school's mission statement is also on the bottom of the mural.
"The mission statement was most important to me for people to see," Russell said. "'The Gibson Southern High School community is dedicated to motivating and educating all students to reach their highest potential as responsible citizens and lifelong learners.' I have taught here for over 20 years, and our mission has remained the same. I am very proud of that. It is great to be a Titan!"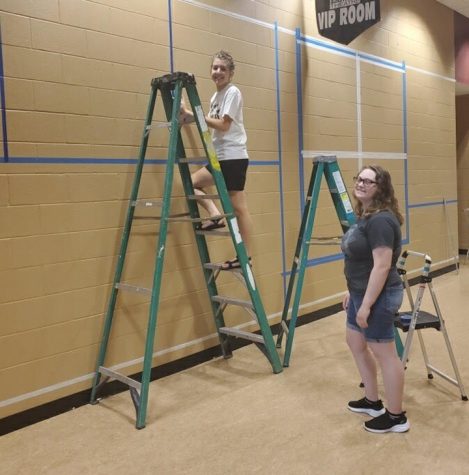 The mural spent about three weeks in development from start to finish. First, lots of time was spent researching designs and re-designing to finalize the design that they considered to be the perfect fit for the school. It took about 15 hours.
"We looked online at other school murals and used them for inspiration," Russell said.
After the design was finished, Russell, Sagers and Weaver put about 115 hours of work actually painting across the span of the three weeks.
"I am grateful to the administration for the opportunity to leave such a statement piece on the walls of our school," Russell said. "I wanted to make it obvious when you walked in GSHS how proud we are of what goes on here."
The mural had been a longtime goal of Russell's. It was something that she has been thinking about doing for years.
"It's been 14 years," Russell said. "But, I've wanted to put something there, or some place very public, since we remodeled."
The school funded the mural and spent a total of approximately $200. The materials included seven gallons of paint and numerous rolls of painting tape.