Students show off spooktacular costumes in STUCO Halloween Costume Contest
Despite fewer categories to compete, students actively participated in the annual event
Students and staff celebrated Halloween by participating in the annual Halloween Costume Contest organized by the Gibson Southern High School Student Council on October 31. Junior Lydia Schmitt and senior Maddie Kautzman were the heads of the Halloween Committee, who planned the contest.
Ian Gamroth, the new Student Council adviser, left much of the coordinating up to the members of the Halloween Committee. 
"That (planning) was left up to the [Halloween] Committee heads and the members of the committee to coordinate what they wanted out of it, how they wanted it to run and who they wanted to be the judges," Gamroth said. 
Schmitt, who has been in Student Council since her freshman year, was also in charge of the Halloween Costume Contest last year. The Halloween Committee and she began preparing for the contest a few weeks prior.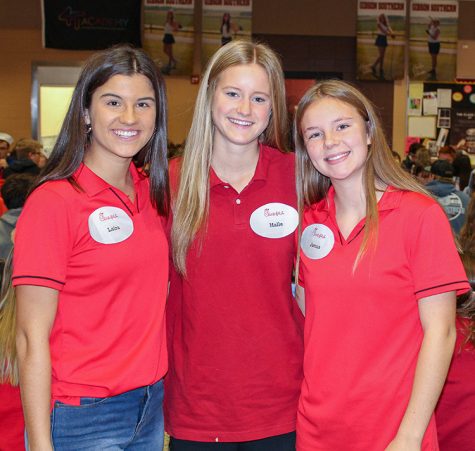 "The planning process isn't too hard, it just requires a lot of communication," Schmitt said. "I have to email teachers, email Mr. Gamroth what they say, then email teachers again. Then I send out information to the Halloween Committee and the student body."
This year many students noticed a change to the contest, with there being only two categories as opposed to the five from last year. This year's categories were best individual, judged by the Math Department, and best group, judged by the History Department.
"We need to find ways to save money from what the Student Council was spending because right now we want to be aware that we want to do more for the student body," Gamroth said. "Multiple categories that have gift card prizes takes a big hit to funding. We want to find a way to balance prizes and stretching our dollar as far as we can for the betterment of the student body."
Students throughout the school had different reactions to this change.
"I wish there were more categories because for people who had costumes like me, it was hard to figure out which group to go to," junior Tyler McFadden said. "But, I know some people didn't really mind."
The winner of the individual category was junior Dara Tice, who dressed as a skeleton. Art Teacher Laura Russell and her students won the group category by dressing as Ms. Frizzle and students from "The Magic School Bus."
"My costume was a skeleton, and I had skull makeup," Tice said. "The shirt and pants and everything didn't take long but my makeup took around 20 or 40 minutes."
Russell and her students received snacks as a prize, and an individual award was coordinated with Tice.
Schmitt and Gamroth enjoyed seeing other students' costumes and were impressed with the level of commitment some students had.
"It's fun to see how far people will take their costumes, " Gamroth said. "The level of commitment is always fun."
"My favorite costume had to be a boy wearing an inflatable hot dog costume because that took some serious dedication," Schmitt said.
Schmitt believes that the Halloween Costume Contest is a fun way for students to celebrate Halloween.
"We do the contest to help give high schoolers the motivation to dress up so they remember how fun Halloween is," Schmitt said. "I hope everyone enjoys the [Halloween] Costume Contest as much as I do and that it's something they look forward to every year."