Nutrition and wellness classes haunt the school with Halloween Wars
Students worked on a budget and their imaginations to win the Golden Skull
FACS teacher Jill Vieira hosted the annual Halloween Wars for the seventh year in a row with a total of ninety students between three classes. Halloween Wars is the cooking show-style event Vieira holds for her regular and advanced nutrition and wellness classes. Students are placed in groups and are told to find and prepare a recipe for 30 people while restricted only by a budget and their imaginations. This year was more impressive than years past; the students upped their game this year and surprised Vieira and the teachers who helped judge the classes. 
"This year's group stepped it up," Vieira said. "I was super impressed, and I even had some teachers tell me the same."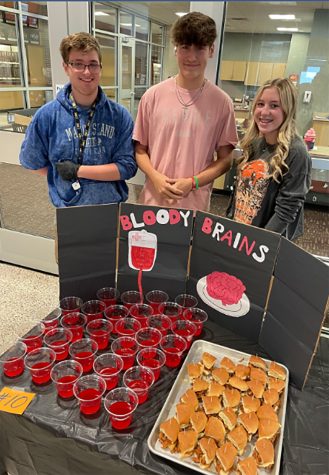 The students were judged by other classes with the possibility of winning one of three categories: Best Tasting, Best Presentation and a category new to this year – Teacher's Choice.
"It's fun," Vieira said. "What I love about what I teach is that we can always do something outside of the box and not just read out of a textbook and answer questions. We can get together, and it's fun to have a friendly competition."
The competition took place during the week and half leading up to Friday, October 28. With the time they had, students planned out their projects, created the presentation, and made the recipe they chose. All of this was done in hope of winning the coveted Golden Skull, a plastic skull that Vieira paints gold and adds gold glitter to. 
"My group won the Best Presentation category," freshman Kullan Thomas said. "We made candied bacon and put it on top of sausage."
Thomas' group's presentation was themed after convicted serial cannibal Jeffrey Dahmer, complete with handcuffs, babydoll parts, a cup that appeared to be full of beer and dish soap, and a sign advertising Dahmer's "leftovers." 
Between the budget per group and the craziness of having a whole class in the kitchens at one time compared to the usual, half of the class in the kitchens per day, groups faced challenges along the way. Senior EmmaLee Higgs and her group attempted to make pumpkin flavored cake balls disguised as eyeballs.
"Our cake was too runny, and it wouldn't harden to form balls," Higgs said. "The chocolate was a hot mess and decorating the cake balls took a really long time. There were a lot of problems."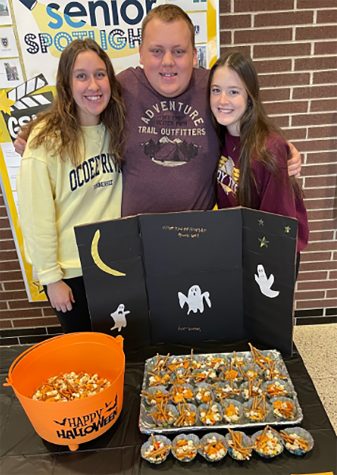 The teacher's choice category is the newest category this year. The winners included students sophomore Jacob Scheller and sophomore Allison Spindler.
"Scheller was so stinking excited the whole time," Vieira said. "It showed so much, especially during the presentation; he was so excited to be there. Each group is different so the way I chose was different for each class."
The groups were limited to $5 each; students were allowed to bring in supplies or ingredients if what they wanted was not covered by the budget. Students had to reserve ingredients and notify Vieira on what ingredients they planned on using and how much they were going to use.
"They get their five bucks, and, of course, they can use whatever I have in the pantry," Vieira said. "It doesn't sound like much, but it can definitely be done."
Vieira plans on continuing the event every year. She mirrors the competition in the spring semester with Food Truck Wars.