Green means go for Burgess
Junior Morgan Burgess isn't your typical athlete – she drag races
Most high school students enjoy the basic hobbies of sports, fishing, reading, etc. However, junior Morgan Burgess takes her hobbies to a whole new level. Burgess competes in drag racing.
"I first got into drag racing when I was nine years old," Burgess said. "My older sister drag raced then and still races now. She originally raced quads but had a close call almost going over the handlebars, so then my dad took her to a top fuel drag race and she fell in love with it." 
Burgess' sister started out as a junior dragster and moved up the dragster when she was 16. 
Starting out, Burgess was not only drag racing; she worked with horses.
"I used to barrel race, and my dad told me I had to choose between four hooves or four tires, and I chose four tires," she said.
There are a lot of things that go into drag racing, but one of the most important ones is timing.
"On a typical drag race, I have to get my car ready in the pits," Burgess said. "In order to do so I have to prep the back tires, start the engine to get heat in it, ensure I have all of my safety gear, check tire pressure, and pull up to the staging lanes." 
From there, Burgess is paired with another race car driver, who she will race against.
"At this time I pick my dial in, which is the time I will be running in the eighth mile, and my opponent will do the same," she said. "I have to cross the finish line before my opponent, but I cannot run faster than the dial-in I chose." 
Burgess then waits for direction from lane officials until it is her time to race. She warms her tires with a burnout after going through the water box.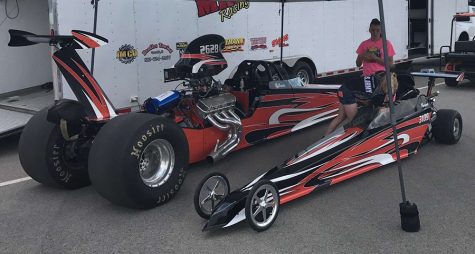 "There are two beams," Burgess said. "Your front tires have to break the first beam and second beam and then your car is staged for racing. At that point, at a given time, the lights on the light tree will start to drop down; there are three yellow lights and a green." 
When the last yellow light turns on, Burgess is ready to race. 
"By the time my car reacts to start moving, the green light has already come on by the time I leave the line," she said.
Burgess takes off down the strip, through the eighth of a mile to the finish line, hoping to cross the line before her opponent, mindful not to run faster than her dial-in or else her opponent wins.
Drag racing is a niche sport with few popularly known racers; however, Burgess picks out one family member and one racer she looks up to.
"A drag racer I look up to is not only my sister but also Tony Schumacher," Burgess said. "My sister has always been there to help me through any problems with the race car, and when I was younger, I wanted to be cool just like she was and race one day. She also was always there with me in the staging lanes and calming me down because I was always so tense. Tony Schumacher on the other hand is just phenomenal." 
Schumacher is a top fuel dragster driver and has really good sportsmanship according to Burgess. She has met him a few times and was thrilled to be in the presence of her role model.
"He not only is a good driver, but he knows how to lose," Burgess said. "In drag racing, you have to learn how to lose because you are going to lose. It's as simple as that. Everyone loses at some point in time. Another reason why I look up to him is because he is so precise with his machinery and with his engine. When I was younger, I always was mesmerized by the way he took care of his car and one day I wanted to be just like him."
Burgess has many memories from her drag racing career, but one in particular sticks out to her.
"My favorite memory was when I had the first win of my whole career," Burgess said. "Explaining my first win is not just winning one race, it's winning the whole event. You have to face many opponents and go through many different rounds to get to the final round. In the final round, it is just you and another opponent running for the title of the event winner."