Spanish Club learns about the Catalonian 'pooping log,' Caga Tio
Members spend an afternoon making their own personal Tío de Nadals.
Gibson Southern's Spanish Club came together on December 8, for its monthly meeting. Being so close to Christmas, this meeting's theme centered around celebrating the holidays. Being Spanish Club, the traditions and activities included in this meeting were not the typical ones that most people in the United States are used to. The Spanish Club adviser, Kaitlyn Mann, spent much time trying to decide exactly which Spanish tradition she wanted to educate her club members and students about. She decided upon a tradition from the Catalonian region of Spain called Caga Tío or "pooping log."
"I didn't even know about it until I was in college," Mann said. "I had a professor from this region of Spain who taught us all about the Catalonian Caga Tío, or the pooping log, so to speak. I just thought it would be something neat for high schoolers. I tried to stay away from religion but also not just do Santa or something that we could see in the U.S. I tried to do something that was uniquely Spanish."
The Caga Tío is also known as the Tío de Nadal. In Catalonian tradition, families get their log on December 1 and do a number of activities with it. They dress it up in a specific way, feed it every day of December, keep it warm with a blanket and sing to it. On Christmas Day, they hit it lightly with a stick until it is time to pull away its blanket and view the gifts underneath. The concept is that if people keep it happy and fed, it will "poop" gifts for them.
"People do get it confused with piñatas a lot," Mann said. "It's not a piñata. There is nothing stuffed inside the log. It's a literal log. Like, they chop down a tree. So, obviously we know, using reason, the parents put presents under the blanket. When they pull it back, it looks like the log pooped them or brought them. It's just their tradition."
During the meeting, club members got to create their own miniature Tío de Nadals to take home. They made them out of toilet paper rolls and paper and stuffed Tootsie Roll candy inside. They also got to participate with the larger Tío de Nadal set up by Mann. Most of the club members seem to really enjoy Spanish club.
"It is just enjoyable to come [to the meetings] and hang out with people," sophomore Elijah Rybachek said.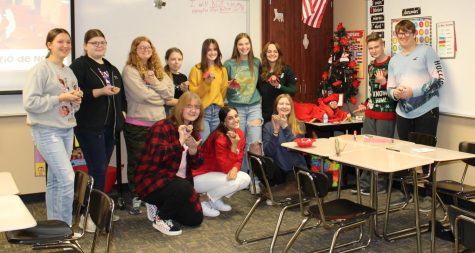 The different activities Mann and the Spanish Club officers come up with entice students to attend the after school meetings.
"I liked the meeting because I am a crafty person, and so I was really happy we chose to do a craft for our meeting," junior Lydia Schmidt said. 
However, not only Spanish Club members get to interact with the Tío de Nadal. Mann has organized a plan that allows any student at Gibson Southern to be able to participate in the tradition and receive the gifts that Tío de Nadal delivers. This takes place during the three days of finals right before winter break.
"Everyone was excited to know that we will be fattening him up over the course of the next week and during finals week," Mann said. "We're going to put out something on social media, probably in the announcements, inviting anybody in the school during those three days of finals to come visit Tío de Nadal, give him a soft whack and enjoy a little treat. I just thought it would be something to kind of lighten the mood as finals are coming up. Something fun, not stressful."