"

"We won more money than Princeton."

— FFA Adviser Jessie Mraz

Gibson Southern's Future Farmers of America chapter participated in an interesting event on Tuesday, Aug. 29. The group had the opportunity to be involved in the production stage of "Money Grab in the Cab."

"I felt like it was a very cool, once-in-a-lifetime experience," FFA director Jessie Mraz said. "Some people go their whole career and never have something like that."

The show is hosted by Ben Bailey, known for his previous work in "Cash Cab." The program consists of Bailey asking farmers various trivia questions, giving them an opportunity to raise money for their local FFA chapter.

"Ben, I mean, he's a pretty cool guy," junior FFA officer Noah Kiesel said. "I didn't realize how famous he was."

The filming began on the Jack Jewell Memorial Football Field, where the chapter was introduced. After filming was concluded, the production team traveled to Bryan Douglas' farm in Princeton, where he was asked questions. Next, the group went to the Parmer's farm in Haubstadt, where they learned about goat milk. Finally, the day ended with everyone coming back to Gibson Southern, where they wrapped up filming.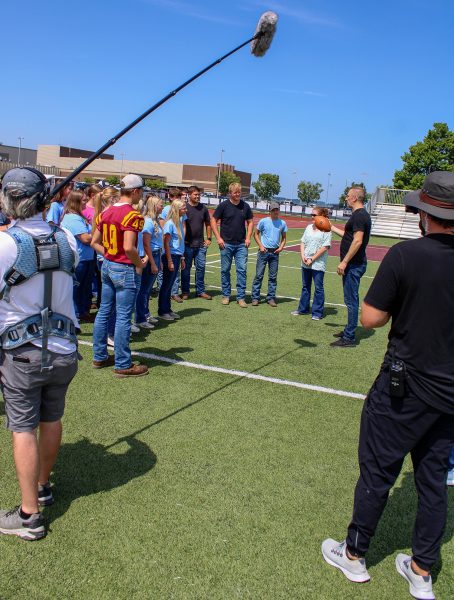 "We were told to walk out onto the field, as a group, and act really excited," junior FFA member MacKenzie Stuckey said. "It was a lot of fun, being able to be out there."
Kiesel and sophomore Samuel Parmer had the chance to answer trivia questions and earn money for the chapter, as well as themselves.
"I think it went pretty good, me and Sam got $150 each," Kiesel said. "For FFA, we got $3,500."
Douglas answered Bailey's questions to win the chapter money. He raised $3,500 for Gibson Southern FFA, which will later be used to benefit the chapter.
"We won more money than Princeton," Mraz said. "The officer team has a meeting next week, and they are going to vote on possible ways to use that money. Then we will give that to the FFA membership to make a final vote on how that money should be used."
The chapter was given this opportunity when Pohl Ag Service donated Pivot Bio's fertilizer to the FFA Chapter. Pivot Bio is partnered with "Cash Grab in the Cab."
"They asked us if we'd be interested in filming and I said, 'Sure why not?'" Mraz said.
This opportunity allowed students to experience what happens behind the scenes of production.
"As far as producing and filming, there's a lot of redos and a lot of background to the shots and stuff like that," Kiesel said.
Gibson Southern's episode of "Cash Grab in the Cab" will be available on RFD-TV between September and November of this year. It will also be available on Pivot Bio's YouTube channel around that time.