Student Council organizes 2023 Winter Homecoming
In the second Homecoming of the year, Student Council recognizes student leaders in the ceremony and hosts dance
On Friday, January 27, Gibson Southern High School hosted its 2022-2023 Winter Homecoming. Gibson Southern's Student Council was in charge of organizing the Homecoming crowning ceremony and dance. The ceremony was held in the main gym and the dance was held in the auxiliary gym. Before the basketball game started, the Homecoming court gathered together and the results for Homecoming royalty were announced.
The results for Homecoming Prince and Princess were announced before the King and Queen. Claiming the most votes from the student body, junior Dawson Maurer took Homecoming Prince and junior Halle Pohl took Homecoming Princess. Maurer and Pohl were both grateful to receive so many votes and happy to win.
"I feel honored," Maurer said. "It's nice that my peers voted for me and my classmates voted for me."
"I feel very shocked," Pohl said. "I did not think I was going to get it. I didn't tell anyone to vote for me. I thought it would be kind of fun because it was my birthday on Friday, and I thought it would be cool to get Homecoming princess."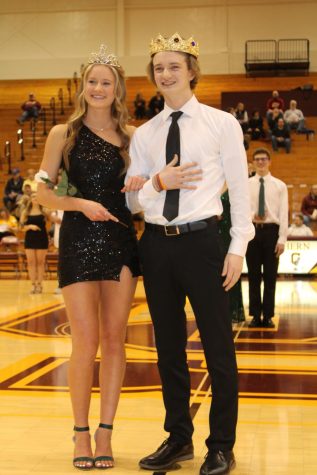 Following the announcement of prince and princess, Gibson Southern elected senior Jaxun Lamb as Homecoming King and senior Ava Weisheit as Homecoming Queen. Lamb and Weisheit were both honored to win Homecoming royalty.
"I feel looked up to, and I'm honored," Lamb said. "I want to thank everyone."
"It's an honor for me to win," Weisheit said. "Obviously, it takes the whole school to kind of vote for me, so I was very honored to receive Queen."
The Homecoming dance was held after the basketball game. Student Council officers were in charge of organizing the event. Senior Student Council President Jake Decker, senior Vice President Brooklyn Casburn, senior Treasurer Vann Rose, senior Recording Secretary Ruth Mercer and sophomore Corresponding Secretary Mackenzie Stuckey all planned and executed the crowning and dance. Decker announced the results for Homecoming king and queen. Student Council member Patricia Long also helped in the crowning ceremony.
"The officers decided that they wanted to take charge and do the organization and execution of the event," Student Council advisor Ian Gamroth said. "They did a great job. They were able to elicit volunteers and set-up and tear-down help. So, they really took the reins and ran with it. I think it was successful. We made 415 bucks from attendance to go towards Student Council, so I'd say that's a win for us."
The theme for the dance and ceremony was "Dress to Impress." Everyone in attendance dressed up in formal attire. There was water, a photo booth, a music booth, lights and lots of floral decorations.
"I think it went smoothly, and I really couldn't ask for a better group of kids to help organize an event," Gamroth said.