Titans fall short to Evansville Christian
Even with the help of the Winter Homecoming King, the Eagles were too much for the Titans
After the excitement of the Winter Homecoming ceremony, the Gibson Southern boy's basketball team faced off against the Evansville Christian Eagles. Head coach Mark Rohrer knew Evansville Christian was an all-around good team and were led by senior Josiah Dunham.
"Evansville Christian is a very talented basketball team and that was on display in our game," Rohrer said. "Josiah Dunham is a player who makes everyone around him better and was very good against us that evening."
The Eagles won the tip off, but the Titans quickly got the ball back and scored. The first basket was made by senior Ethan Spindler and put the Titans up 2-0. The Eagles bounced back and took the lead 7-2 after a few buckets. After two baskets from senior Jaxun Lamb, the score was 13-7 with the Eagles still in the lead. The first quarter ended with a score of 15-7. 
The Eagles kept the lead in the second quarter and extended their lead 28-7. The Titans were scoreless halfway through the second quarter but that changed after sophomore Brodey Lamb ended the dry spell with a basket. Going into halftime, the Eagles were in control of the game, leading 30-15.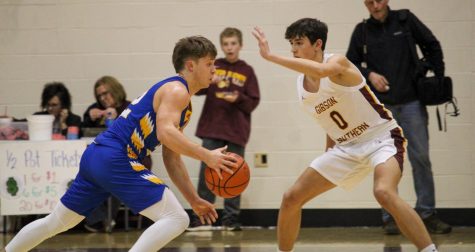 To start the third quarter, the Eagles got the score to 35-17, and then the Titans battled back to narrow their deficit to ten, 35-25. Evansville Christian went on a scoring spree, extending its lead, 44-26. Junior Sean DeLong hit a three-pointer at the end of the third quarter for the Titans, closing it out 47-29. Rohrer was happy with how competitively the Titans played in the third quarter.
"I was pleased with our competitive spirit in the third quarter," Rohrer said. "We got down by 20+ in the first half but battled back to make it a game in the third quarter. Unfortunately, we just didn't have enough left in the tank to close the game in a way that gave us a shot late, but I was proud of the fact that we came out with a lot of fight in the third quarter."
The Titans started the fourth quarter with a three-pointer from Lamb. Halfway through the fourth quarter, after a basket by junior Maxx Wilson, the Eagles led by 20 points, 57-37. Wilson thought the Titans would need a defensive stop in order to stand a chance.
"I knew we would need to get a stop on defense to cut the lead down and start hitting our shots," Wilson said. 
The Titans hit some baskets late in the fourth but could not come back. The Eagles took the win, 60-42. With an 18-point deficit, Spindler thought the team didn't play as well as they could have.
"We didn't play to our full potential," Spindler said. "I feel like we didn't execute our game plan on defense."
The Titans will host Tecumseh on Friday, February 10.